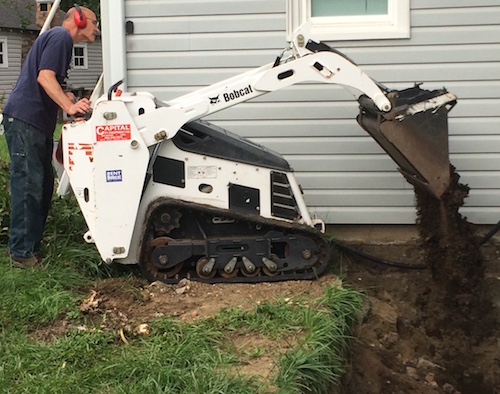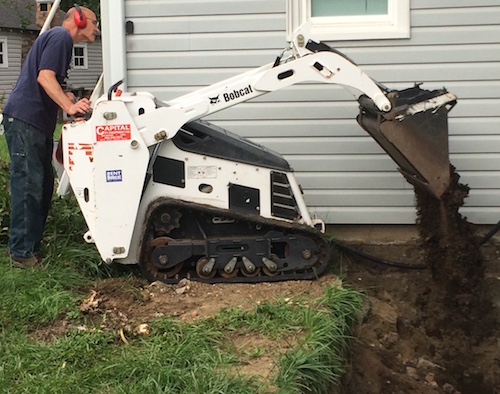 The Summer of 2016 will go down in history as a most exciting one. The Man of Steel's basement project, with its main components being large dirt piles, big holes, and large equipment, has been an ongoing source of wonder for our three young grandchildren. (The above action shot, the action being the dirt pouring out of the bucket, was highly appreciated by the 3 1/2-year-old.) The Wonderfully Made Family Camp (WMFC) at Hidden Acres, the trip to Latvia to be part of a special needs camp, and family camp in Idaho each had their own exciting elements.
But, as the summer winds down I have to say that our adventures in multi-generational living, which began on May 20 when our daughter, our son-in-law, and grandson moved into our upstairs, leave all others in the dust.* All in all, the transition has gone well. The fact that the upstairs consists of three large rooms and a full bath that is completely their space, makes the arrangement easier. But, we've learned, and are still learning, much about how to live together in shared spaces: the kitchen, the laundry room, the dining room, and sometimes the living room.
Over the next few months, the daughter and I will be sharing our perspectives about what has worked, what hasn't, and how we've resolved what doesn't. To start things off, here are four systems we've put in place that make multi-generational living much easier.
First, a command center is a must. Ours is a giant whiteboard in the kitchen. It's a monthly calendar where everyone posts their work and travel schedules. Once that's in place, we decide who's going to cook each night and plan menus. We also record financial reminders about what's owed for groceries and utilities and payment due to the daughter and son-in-law for projects we've hired them to complete. Honestly, without this system, we couldn't function.
Second, compile grocery lists. This one took a couple months to get in place, mainly because I was gone so much it was hard to plan menus. We now have 2 lists, 1 for our local grocery store and 1 for Costco, Trader Joe's and a Mennonite market where we purchase hard-to-find baking ingredients. Everyone knows where the grocery lists are and they are encouraged to add items that are running low or used up. We visit the local grocery store weekly. I make the Costco/Trader Joe's/Mennonite market run about once a month, usually after a visit to Dorothy since those stores are 45 minutes from our Gravel Road, but only 20 minutes from her.
Third, get a joint credit card for groceries. This card is used only for what's on the menu and each family pays half the bill. This simplifies finances immensely.
Fourth, only one joint meal is served per day. That meal is usually supper, though depending on schedules, it is sometimes lunch. The freezer, fridge, and pantry are stocked with breakfast items and everyone serves themselves. The same is true for lunch, at which leftovers are also fair game.
From my point of view, these four systems are life savers. We'll see what the daughter has to say at a future date. It could be interesting!
*Please note: The use of this idiom was deliberate in light of the name of this blog.
Do you have a multi-generational living arrangement? How do you make it work? Leave a comment.
Save
Save