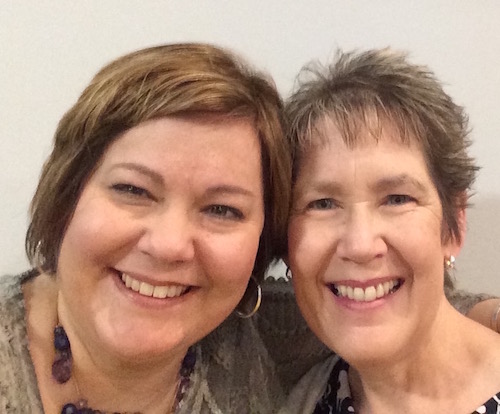 A week ago last Saturday, Katie Wetherbee and I were at the Accessibility Summit at McLean Bible Church near Washington, DC. In the morning we put on our fancy duds and facilitated a workshop called How to Become a Special Needs Ministry Master Chef, based on our book Every Child Welcome. After that we hung out at our book table.
Which turned out to be the party table in our part of the Exhibition Hall.
I can't speak for Katie, but for the first time in my life I knew what it was like to sit at the popular table in the high school lunch room. People visited our table all day long. They signed up for the email newsletter, asked to take pictures with us, and bought books. Lots and lots of books. So many that several titles sold out, and I only had to lug home 5 of the 60+ books I lugged to DC.
It was pretty heady stuff.
Then I came home on Monday, put on yoga pants and a sweatshirt, and spent the rest of the week doing every day stuff. Unpacked and started the laundry. Cleaned the kitchen. Caught a cold. Got a haircut. Paid the bills. Grocery shopped. Started a diet. Cooked low fat meals.
Then another Saturday arrived.
There wasn't a party table in sight. Just Creeping Charlie in the rhubarb to pull and quack grass in the flower beds to hoe. Cilantro to sow. House plants to move to the sun porch. Grass to mow. Three pans of buttermilk brownies to bake and Rice Krispie Treats to make for Sunday's fundraiser for my mission trip to Latvia. Just me and the Man of Steel working side by side. He didn't ask for a picture with me. But I didn't ask for a picture with him either.
Such a come down from the Accessibility Summit.
To be honest, this author's life is pretty mundane. Lots and lots of weeks of solitary writing, waiting for those rare moments when the right words combine to say exactly what you want. Doing housework alone and yard work with the Man of Steel. Dotted with those unexpected weekend stints at the party table. But I'm in good company.
After all, Erma Bombeck did all her own housework, too.