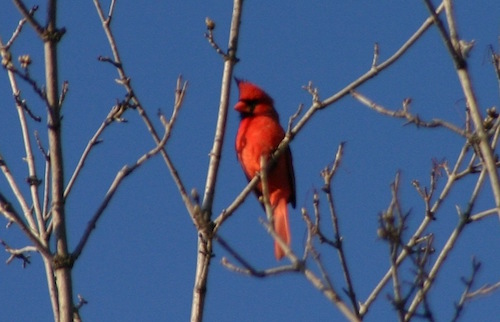 Walking outdoors is one of my favorite things. Except when it's cold and windy. So lately I've had to talk myself into walking outside in the morning. This post from 2013 proves this year is just like years gone by. But more that that, today's Fantastic Friday post explains why walking outdoors is worth the cold, the wind, and the internal battle that get a person's feet out the door.
The Cardinal Says It's Spring
These April mornings,
When my walks begin.
I need a pep talk to push my feet
Out the door and down the lane.
The grass is brown.
The tree branches grey,
The wind is cold,
The landscape bare.
Still the cardinal,
bright red with promise,
Sings words to warm my frozen, winter soul.
"It's spring! It's spring."
What says spring to you? Leave a comment.