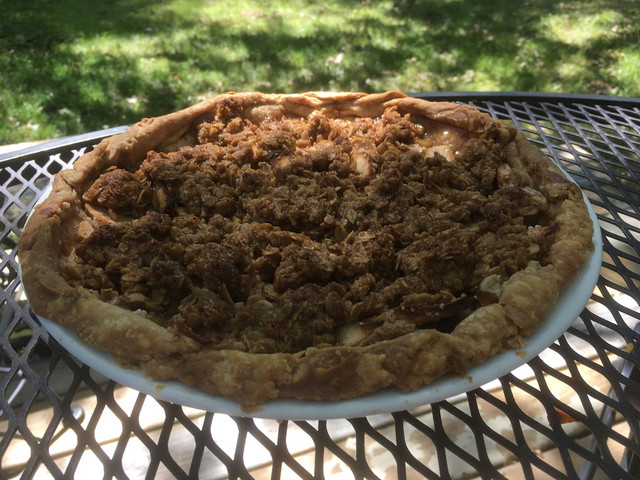 When in a pinch write about pie. That's my best authorly advice for wannabe writers when unusual life events blast their routines to smithereens.
A plethora of unusual life events also explains why this post features pie instead of an update about See Jane Run! Here's what made the short list
The Iowa derecho. It did a number on our yard. Everything but the giant cottonwood in the east pasture has been cleaned up. The tree's our late-summer-into-fall project that we'll keep chipping away at.
Grieving friends. A text came from friends during the weekend just passed about the unexpected and devastating loss of a family member. To preserve their privacy, I won't go into details other than to say it wasn't COVID-related. They've been texting updates, and each one leads to fresh tears.
House construction. A crew arrived this past Monday before 7 AM. By noon they had constructed the forms for the foundation walls . At 5:30 they had emptied the contents of 4 cement trucks into the forms. Tuesday morning they were back at 6:30 AM to disassemble the forms. It was great entertainment for the whole family, but not conducive to writing. This modern process for building foundations is also not conducive for the hiding of dead bodies. I've rebranded the time lost to writing as research because it makes me feel better.
Okay, that's enough of that. Let's move on to pie. My recent Instagram post about taking a pie to neighbors who helped us out during the derecho was pretty popular on Instagram and Facebook. It came to mind when I didn't have time or energy to blog about what I'd hoped to tell you about See Jane Run! this week.
A little voice in my head said when you're in a pinch blog about pie because people love pie. So here's what I have to tell you about pie.
The crumb top apple pies I made, one for our neighbor and one for our family, were delicious.
You can pulverize rolled oats into flour in the blender and use it instead of regular flour in the crumb topping to make gluten free apple crisp that's almost as good as pie.
To make the pie dairy free and soy free, replace butter with half Earth Balance vegan buttery sticks and half lard.
Homemade pie crust made from Grandma Conrad's Never Fail Pie Crust recipe is the absolute best. If you want to go vegan, you can use Crisco, but it's not the same. Sorry about that.
Finally, here's the connection between a post about pie to a cozy mystery blog. In one of the final chapters of See Jane Run!, Jane makes an apple pie and uses Grandma Conrad's recipe for the crust. Because as Jane and I both know, it's worth writing about when we're in a pinch and when we're not.
Sign up to receive website updates and See Jane Run! book news on Gravel Road's home page right under the picture of–you guessed it–the gravel road.