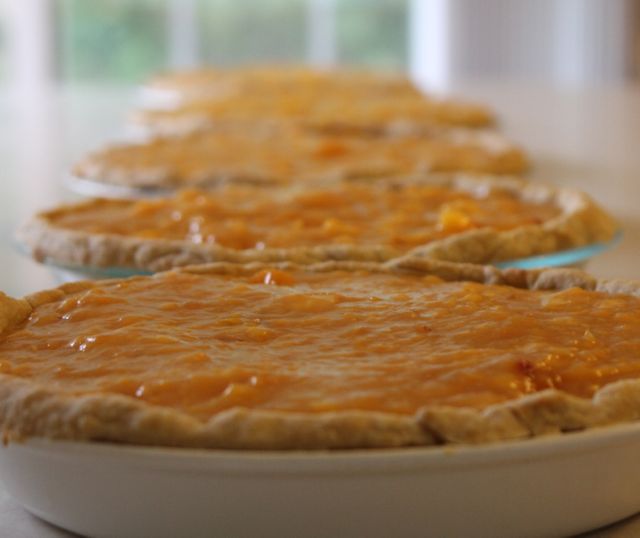 Peach season is a terrible thing to waste. To avoid that tragedy, I devoted part of last weekend to making 2 fresh peach pies using a recipe that's been in our family for over 50 years. The Man of Steel and I will be celebrating peach season with a pie every week or so until peach season ends.
Without hesitation, I can say that this recipe makes the best peach pie ever. So good my mother-in-law from Alaska scheduled her summer visits during peach pie season.( I'm not making this up.) That's why, even though this recipe has appeared on the website before, it's worth being featured again today.
Good as the recipe is, it is also simple to make. I've only changed two ingredients over the years. First, I cut the cup of sugar in the original recipe to 1/2 or even 1/3 cup, depending on the sweetness of the peaches. Second, I use Earth Balance Buttery Vegan Stick instead of butter so the pie is dairy-free.
What are the secrets to making the best peach pie ever? First, you have to select good peaches. Where we live Missouri, Colorado, or Michigan peaches are best. California, South Carolina, and Georgia peaches have to travel too far and never work as well. Second, use lard in the crust. Now, here's the recipe for the best peach pie you will ever eat.
Fresh Peach Pie
5 large or 7 small to medium peaches
1/3–1/2 cup sugar
1/2 cup water
3 tablespoons cornstarch
2 tablespoons butter (or Earth Balance Vegan Buttery Stick)
1/2 teaspoon almond extract
Slice three large peaches into a nine inch baked pie shell. In a sauce pan, crush two large peaches. Mix together sugar and tablespoons of cornstarch and add to crushed peaches along with water. Cook and stir constantly until mixture boils, thickens and turns clear. Add butter or Earth Balance and almond flavoring and stir. Pour hot mixture over sliced peaches in the pie shell. Refrigerate for 2-3 hours before serving.