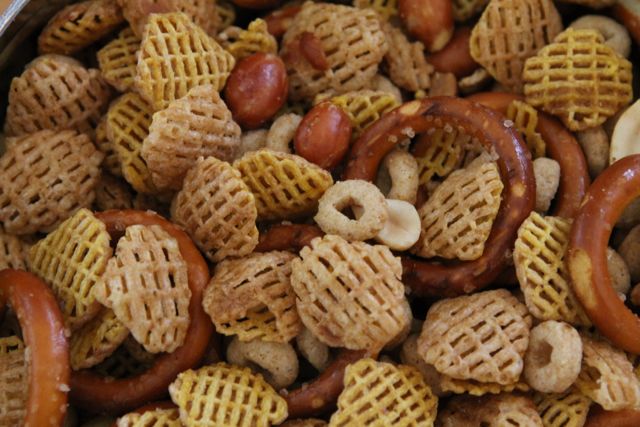 Just in time for the big Thanksgiving grocery shopping trip, here's the recipe for the Fabulous Franklin Chex Mix. The recipe traces its roots back to Zoe Hemmingson, one of Mom's fellow teachers at Franklin School in Le Mars, Iowa.
It's been a family favorite at Thanksgiving and Christmas since the late 1960s Mom used to make a batch in November and another in December. She's abandoned the shopping and cooking duties, though she still pays for the ingredients, but sends one her kids to shop. These days she enjoys watching her children or grandchildren do the measuring, mixing, and cooking…and performing her quality control, taste-testing duties. Rock on, Mom!
Franklin Teachers' Chex Mix
Mix together in a large bowl:
1 box Crispex (17 ounce)
5 cups Cheerios
4 – 5 cups pretzels and mixed nuts (proportion as you like)
Mix together in a small bowl:
1/2 cup melted butter or margarine
1/2 cup melted bacon grease*
1 tablespoon garlic powder
1 1/2 tablespoons Worcestershire sauce
Divide mixed, dry ingredients amongst three or four large cake pans. Pour wet ingredients over cereal mix and stir well. Bake at 200 degrees for 2 hours. Stir and turn off the oven. Leave mix in oven until the oven cools. Cool Chex Mix. Store in airtight containers.
*This secret ingredient is essential for the mix's unique taste. Please ignore recent research that shows the secret ingredient may cause cancer.