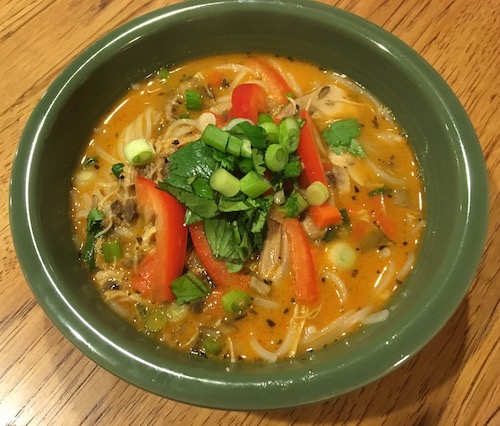 Our family loves Thai soup. So I'm always on the look out for recipes that taste like what I've been served at good Thai restaurants. In September, I found and tucked away a slow cooker chicken Thai soup recipe until December and winter arrived. It was an immediate hit for several reasons. First, because of the slow cooker, it was fairly easy to put together. Second, it is gluten, dairy, and soy-free so it required no modifications for our dietary needs. Third, it tasted delicious and received the coveted Hiram seal of approval. And fourth, it can be easily doubled or even tripled to create freezer meal.
My version of the recipe (which I couldn't find on Parade's Community Table recipe page) is slightly easier than the original and uses easier-to-find ingredients. Also, I through rice noodles into the mix to make the soup a hearty and complete meal.
Slow Cooker Chicken Thai Soup
2 lemons, zested
3 cups chicken or turkey broth
1/4 cup fish sauce (can use soy sauce)
1 (2 inch) piece ginger, peeled and grated
6 strips lime zest
1 thinly sliced shallot or 2 thinly sliced green onion
1/4 cup red curry paste
1 1/2 pounds chicken hindquarters
4 ounces mushrooms, thinly sliced
1 can unsweetened coconut milk
1 finely chopped large carrot
3 tablespoons lime juice
1 (16 ounce) package of Thai rice noodles
1/4 cup chopped cilantro
1 teaspoon dried basil or 2 tablespoons chopped, fresh basil
1 thinly sliced green onion
1 red, yellow, or orange sweet pepper, thinly sliced
Preheat the slow cooker. Place lemon zest, broth, fish sauce (or soy sauce), ginger, lime zest, shallot or green onion, chicken hindquarters, and mushrooms in cooker. Cover and cook on high for 2 1/2 hours or on low for 5 hours.
Remove chicken from cooker and cool before picking meat off the bones. Then put it back in the cooker.*
Add coconut milk, chopped carrot, and red curry paste. Cook on high for 30 minutes longer or for 1 hour on low.
20 minutes before serving, prepare the Thai noodles according to package directions. Place them in a large bowl.
Right before serving, stir in lime juice, cilantro, basil, and green onion.
To serve, place rice noodles in the bottom of each soup bowl. Then ladle soup onto the noodles. Garnish with chopped cilantro and sliced green onions, along with the sweet pepper slices and add some red pepper flakes for heat if that's your jam.
*If making freezer meals, allow this mixture to cool and place in labeled gallon zipper bags. Proceed with the rest of the recipe when you serve the freezer meal.
SaveSave
SaveSave
SaveSave
SaveSave
SaveSave