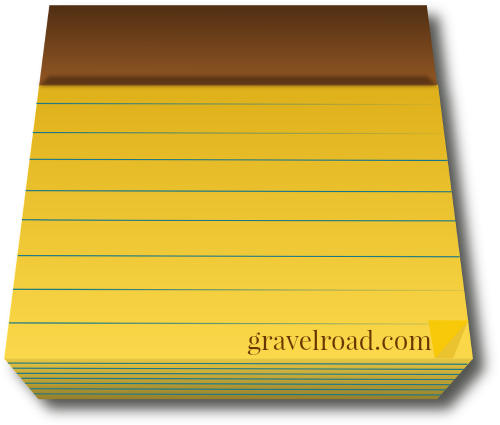 Today's post comes from a fellow resident of our dusty gravel road. It's a pleasure to turn the keyboard over to Anne Fleck who happens to be my daughter. Once you read what she has to say, you may see a family resemblance. And you'll understand the significance of the yellow legal pad graphic, too.
Notebook Neurosis
I don't usually think of myself as a neurotic writer. Disorganized, eccentric, prone to edit my work until the second coming of Christ, yes, but neurotic? Definitely not. I read Anne Lamott's Bird by Bird and it was like reading a field guide to a foreign country: informative, but hardly familiar. When I sit down to write, there are not voices to ignore, no thoughts about success or failure or other people's opinions. Just me, my pen, the page and the call of adventure.
The page is the fly in the ointment. When it comes to the physical paper I write on I am cagier than a zoo. I'm not alone. I seem to remember there being something about it in Bird by Bird. I'm not really that sure, I read it a while ago. In my own life my mother also displays a paper-related psychosis. She will only write her books on a yellow legal pad.
Clearly she's a sick, sick woman. The very thought of it makes me shudder. That terrible yellow burning its way into my eyeballs, the red line a knife in the consciousness. The subtle horror of the lines–are they grey or blue? Blue–printed on yellow–looking grey? Or green? Let's not even start on flipping the page up instead of over.
If there were nothing but yellow legal pads in the world I would write my novels on napkins and bed sheets before succumbing to their canary-colored tyranny. The correct thing to write on is a spiral bound, five subject notebook with a blue cardboard cover.
To read the rest of this article visit Anne's blog, Not-SoStarvingArtists.com.
Save