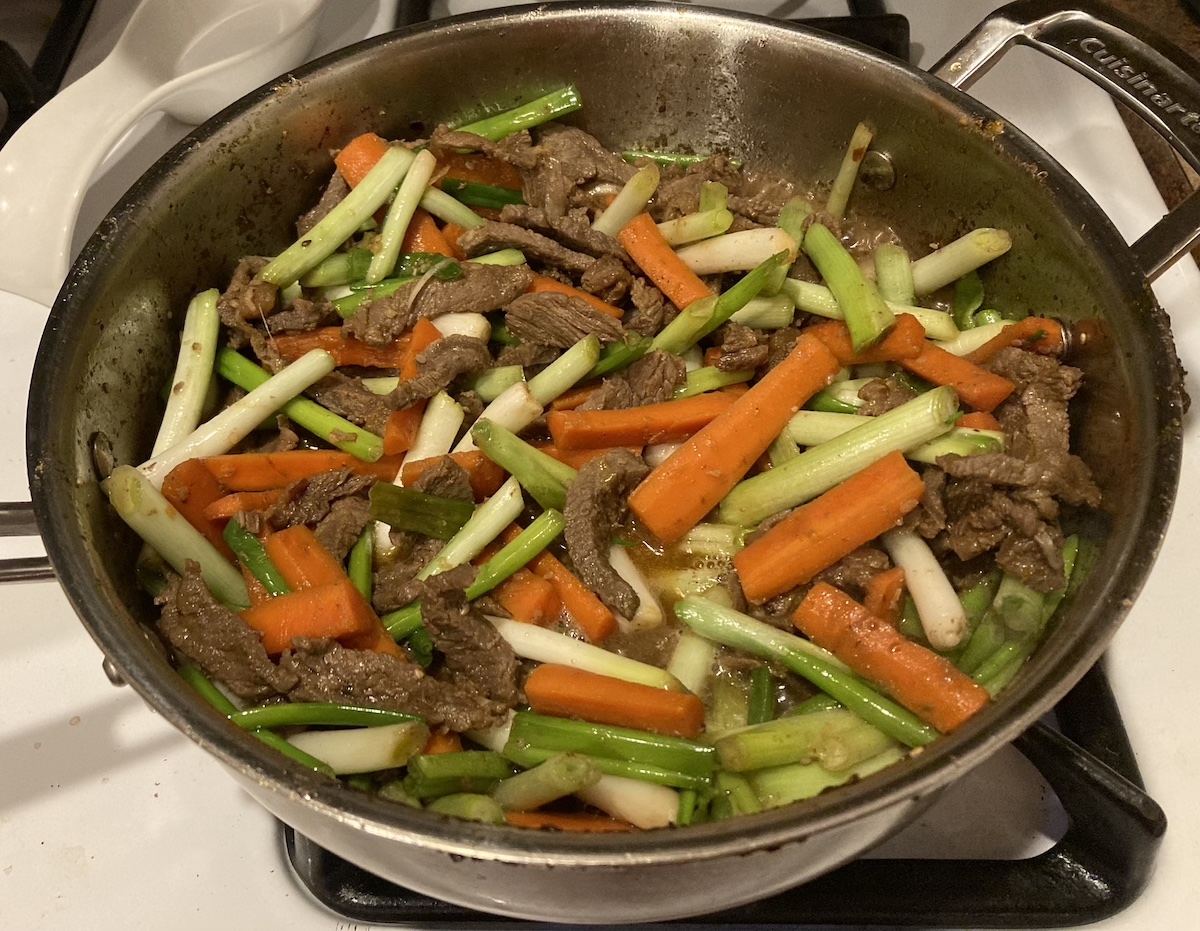 Mongolian beef is one of my husband's favorite dishes. When I brought home our local grocery store's seasonal magazine and saw a recipe for Mongolian beef made with hamburger. I decided to adapt it to meet our multigenerational family's purposes. That meant:
Supplementing the traditional green onions with vegetables (carrots) the grandkids will put in their mouths.
Using beef that hasn't been ground.
Doubling the recipe so 4 adults and 2 children could get enough to eat.
Here's our adjusted recipe.
Mongolian Beef
2 pounds lean beef (roast or steak) cut into thin strips
3 T sesame oil, divided
6 cloves garlic, minced or pressed
1 T fresh garlic, grated
4 T mirin (rice wine)
4 T rice vinegar
1 T brown sugar
1/4 cup soy sauce
1/2 cup water
2 tsp. sesame seeds
1/4 tsp. crushed red pepper flakes
4 bunches green onions cut into 2 inch lengths
2 large carrots peeled and cut into bite-sized pieces (skip this ingredient if you want a more traditional dish)
2 T toasted sesame seeds (for garnish)
8 cups cooked rice
Put 2 tablespoons of sesame oil into a large pan set at medium high heat. Add beef strips and cook through and juices have been cooked off. Remove from pan. Add remaining tablespoon of oil. Add carrots and stir fry until they just begin to cook. Add garlic and ginger. Saute until fragrant, about 2 minutes. Add the mirin, rice vinegar, brown sugar, soy sauce, and water. Cook until liquid begins to thicken. Add green onions and stir fry for another minute or 2. Serve over rice and sprinkle with toasted sesame seeds.
Editorial Note: The 6-year-old wouldn't eat the carrots because he said they tasted weird. He refused to eat the meat at first because he thought it looked like poop. (6-year-olds are obsessed with poop.) Once convinced it wasn't poop, he tasted and downed it in record time.) The 3-year-old ate the carrots and rice, but not the meat. They ate the green peas I prepared as a back up vegetable. Why they didn't refuse those because "pea" and "pee" sound the same, I'll never know.