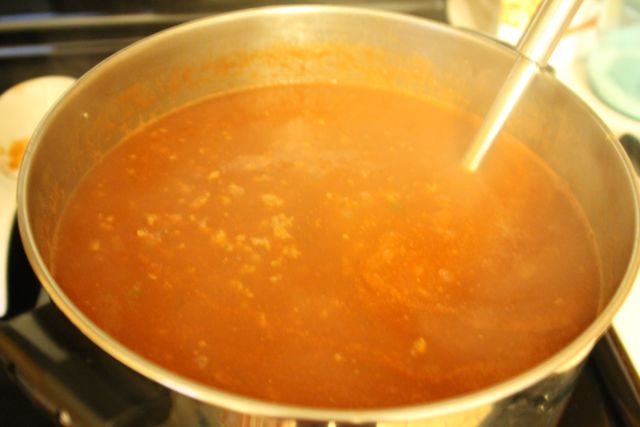 Welcome back for the second recipe in the cornbread and chili series. Last week's post featured non-dairy cornbread. This week's features the chili recipe my mom used for years. The origin is unknown, though I suspect it's a quick-and-easy version she created in her teaching-while-parenting-three-kids-caring-for-a-disabled-husband-and-going-to-college years. It may not win a chili cook-off contest, but it's the taste I grew up with, and to my mouth, it's wonderful.
Mom's Chili Soup
1 pound ground beef or ground pork, browned
1 medium onion, chopped
1–2 jalapeno peppers, seeded and chopped (not in original, kid-friendly recipe)
1–46 ounce can tomato juice
1–28 ounce can chili beans
1 tablespoon chili powder
salt and pepper
Brown meat in large soup pot. Drain off fat. Add onions and peppers. Saute for 5 minutes. Add tomato juice, beans, chili powder, and salt and pepper to taste. Heat to boiling. Simmer for 45 minutes to an hour.
This meal freezes well, so I often make a double batch and freeze one.