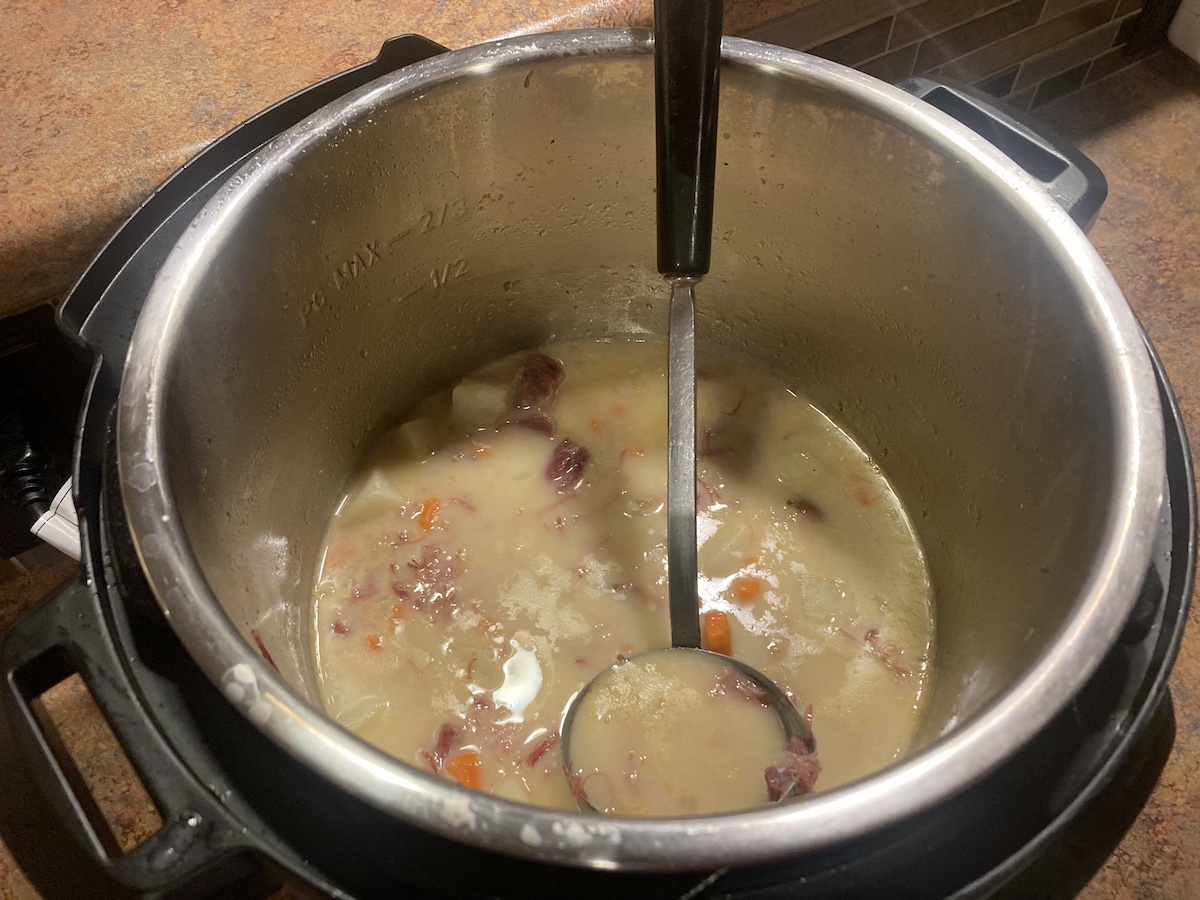 Ham and potato soup has been a favorite of ours for decades. When we lived in South Dakota, I made it with fresh milk that an old farmer sold for fifty cents a gallon.* We skimmed almost a quart of cream off every gallon and added some of that to the soup, too. My love of potato soup continues too this day, but making a dairy-free version to rival what I was used to before being diagnosed with a dairy allergy has been a struggle.
Until now.
With the addition of our Instant Pot and my daughter's knack for using cashews to make foods creamy, the ham and potato soup I served our family last night was a winner. We were so hungry before supper, I forgot to photograph the full pot. As you can see, there wasn't much left! Also, I prepared the ham hocks in the Instant Pot the day before, a process which yielded the broth used in the soup.
Ham and Potato Soup in the Instant Pot
2 cups cooked, cubed ham or the meat picked off two cooked ham hocks
6 cups ham, chicken, or vegetable broth
2 pounds potatoes, peeled and cubed in 1/2-1 inch cubes
2 tablespoons Earth Balance butter substitute
1 large carrot, chopped
1 medium onion, diced
3 cloves garlic, minced
salt and pepper to taste
1/8 cup raw cashews
1 quart shelf stable coconut or oat milk
Soak the cashews in hot water for a few minutes. Put them in the blender with 1/2 cup of the coconut or oat milk and blend until smooth.
Using the saute setting on the Instant Pot, melt the butter substitute. Add the carrot, onion, and garlic. Saute until onions are transparent. Add the potatoes, ham, and broth to the pot. Season with salt and pepper to taste. (If using ham broth, you won't need more salt.)
Secure the lid on the Instant Pot. Be sure the venting button is set to seal. Using the pressure cooking function, set the timer for 10 minutes. When the Pot beeps to signal the end of the 10 minutes, turn venting button from seal to vent to quick release the pressure.
When the pressure has been released, take off the lid. Turn on the keep warm function and add the blended cashews and the rest of the coconut or oat milk. Serve when the soup reaches your preferred temperature.
*The complete story of the farmer and his amazing milk cow, Snippy, made its way into See Jane Run! and the other books in my cozy mystery series. They are available on Amazon.