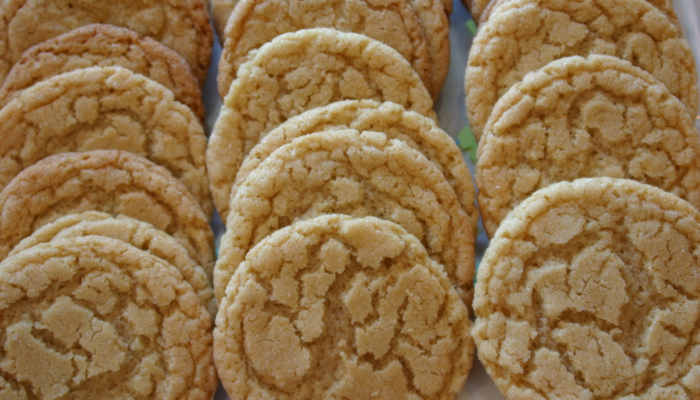 Galavanting from here to there and back again doesn't leave much time for cooking. So today, because of present galavanting at Shadow Valley Family Camp, this recipe comes from the camp cookbook. A dairy-free fix would be easy with Earth Balance Vegan Buttery Sticks and coconut or cashew milk. But even if there was time to fiddle with the recipe, I wouldn't dare…because having a batch of Brown Sugar Snaps in the house would be way too tempting.
Family Camp Brown Sugar Snaps
Warning: These cookies are addictive. Unless you like to live dangerously, don't read another word.
Truth be told, all the food at Idaho Family Camp is addictive. Every time a nummy recipe is posted, I'm enabling an addiction. Usually it's my addiction. But post-wedding and post-family camp, inundated with veggies from our CSA, and deep into a twelve step, healthy eating program (which means Hiram puts the key to the padlocks on the fridge and pantry twelve steps up on a ladder I'm scared to climb), I'm feeling strong enough to resist temptation.
I'd never tasted these before or even heard of them before this summer. Brown sugar snaps are sort of ginger snap meets snickerdoodle, molasses crinkle meets sugar cookie. And as mentioned before, they're addictive. Very addictive. Give them a try and leave a comment with your description. But remember, you've been warned. So don't blame me when you can't stop eating them!
Brown Sugar Snaps
Cream:
2 cups white sugar
1 cup brown sugar, packed
4 sticks butter
2 teaspoons milk
2 teaspoons vanilla
Add: 2 eggs and beat again,
Add:
5 cups flour
3 teaspoons baking soda
3 teaspoons cream of tartar
1/2 teaspoon salt
Chill dough for at least one hour.
Preheat oven to 400 degrees. Roll dough into balls, dip in sugar, and place on a cookie sheet. Turn oven down to 375 degrees just before putting in cookies. Bake about 9 minutes. Cookies should have nice deep cracks. You will need to reheat the oven to 400 degrees between pans.
Save
Save