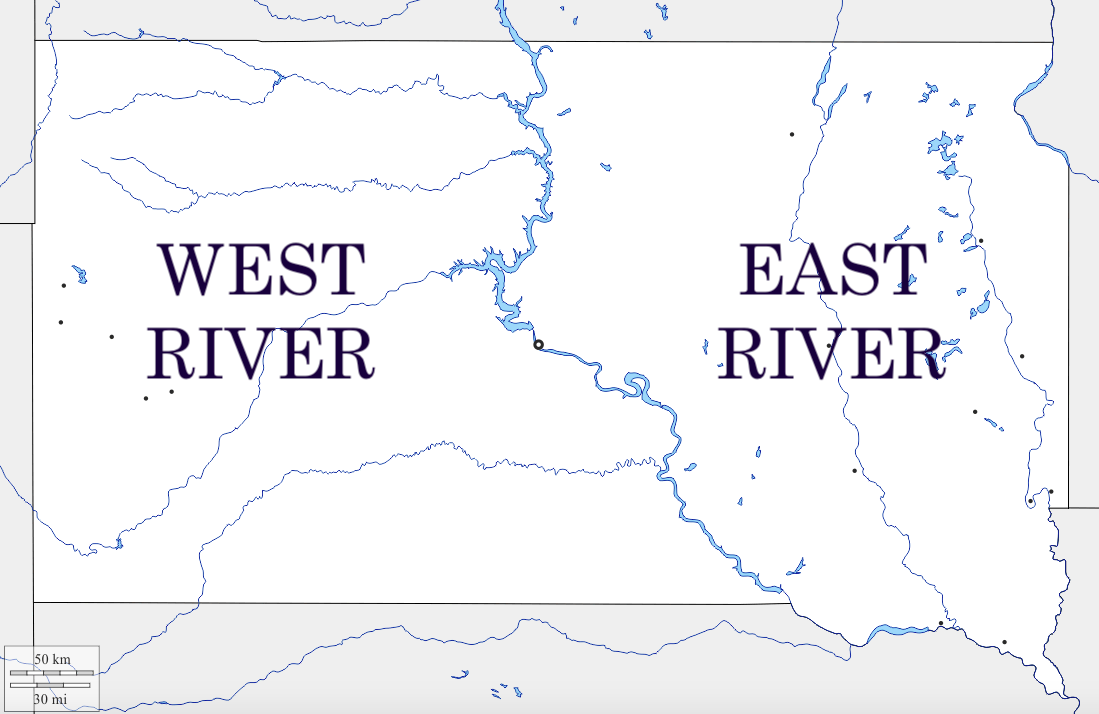 East River, West River is a phrase familiar to past and present citizens of the Dakotas. Everyone else in the world is most likely oblivious to East River, West River talk. If you're among the oblivious ones–a group that included me until my husband and I moved to South Dakota–this  quick tutorial is designed to enhance your understanding of a concept foundational to See Jane Run! and its sequels.
The river referred to is the Missouri, which divides South Dakota into two neat halves. My spit spot Mary Poppins nature has always been grateful to have lived in South Dakota rather than in North Dakota, where the divide between east and west is messier.
East River refers to counties east of the Missouri. West River refers to those west of the Missouri. Pretty simple, right?
East River has farms. West River has ranches. Always remember that the words "farm" and "ranch" are NOT synonyms.
East River is populated by farmers. West River is populated by cowboys. DO NOT confuse the two.
The cultural divide between East and West River is far wider than the Mighty Missouri.
Last week I met with an editor who's interested in publishing See Jane Run! and future books in the series. Exciting, yes, but all I can say until a contract has been signed is that things look promising. One reason is because the editor has an affinity for the region of the country where See Jane Run! is set. He has lived in both Dakotas and Montanas, so he gets the whole East/West, Farm/Ranch, Farmer/Cowboy business. Upon reading the manuscript, he immediately identified the culture shock experienced by Jane, the book's protagonist and amateur sleuth, as a crucial element of the story.
Something we discussed in our 2 hour virtual meeting was how to communicate that element effectively. One easy way, I realized as we talked, was to change the series' name from "The Tipperary County Mysteries" to "The West River Mysteries." Not only does the change magnify the cultural divide, it also expands the setting from a single fictional South Dakota county to anywhere west of the Missouri River. Oh, the possibilities!
Whether you live East River, West River or up a creek without a paddle, I'd love to hear what you think of the change. Also, I promise to make a big announcement with all the juicy details once a book contract has been signed.
Sign up to receive website updates and See Jane Run! book news on Gravel Road's home page right under the picture of–you guessed it–the gravel road.