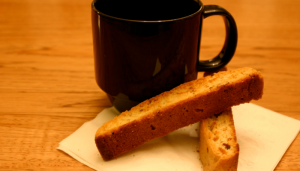 My daughter and I love biscotti, but can't stand paying what coffee shops charge for them. So yesterday we made our own, using a recipe I tore out of an old American Profile magazine. The recipe made a huge batch, and we thought about halving it, but decided to follow it exactly.
Now we're glad we did because it is delicious. Even Hiram, who usually doesn't like anise, liked these cookies. In fact, he was eating them so fast, I had to hide them. Anne's taking a bunch of them to a party tonight, and we hope to take some to our extended family Christmas next weekend. If we have any left over, we'll send some to Allen and the rest of the monks since they're the kind of thing that travels well. The last two hopes depend on whether or not Hiram finds the hiding place.
If you want to make them yourselves, the recipe is printed below. It was submitted to American Profile by Pat Aldighieri from Cornish, New Hampshire.
Italian Biscotti
1 pound butter, softened                                        4 cups sugar
8 eggs                                                                       1 tablespoon baking powder
2 teaspoons vanilla                                                  4 tablespoons anise seed
6 ounces almonds, chopped                                  8 cups all-purpose flour
1 bag (6 ounces) dried cranberries                        1 cup pistachio nuts, shelled
Preheat oven to 350 degrees. Mix butter, sugar, eggs, baking powder, vanilla, anise seed and almonds until well blended. Stir in flour gradually. When smooth, stir in dried cranberries and pistachios. (We didn't have pistachios and substituted chopped pecans.) The dough will be sticky but not difficult to handle. Divide dough into four equal parts. Shape each section into a loaf about 15 inches long and 4 inches wide. Bake loves for about 45 minutes on a baking sheet with sides. (If dough begins to spread and become too flat during baking, reshape with a spatula.O Remove loaves from oven, and allow them to cool. When cool, cut each loaf into 1-inch slices. Place slices back on baking sheet and bake for 10 to 15 minutes, until golden. Makes about six dozen large cookies.
Our advice: Shaping the loaves was the trickiest part. We learned that well-floured hands, parchment paper lining the baking pans and a very light touch while forming the loaves made it much easier.