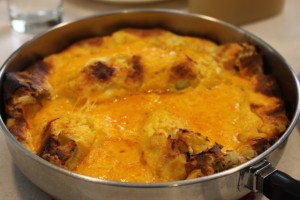 In last Wednesday's recipe post, I shared a sweet version of an eggy, fluffy pancake called a Dutch Baby. It was my adaptation of the Dutch Baby featured in Pam Anderson's CookSmart column in USA Weekend Magazine's December 23-25 issue. Today, you get my rendition of the savory version also featured in the column.
I substituted onions for the leeks in Pam's recipe and turned it vegetarian by leaving out the ham. Believe it or not, despite my sweet tooth I preferred this savory variation over last week's sweeter one. If you try them both, leave a comment about which one is your favorite. Or, share your adaptations for this way easy breakfast treat.
Dutch Baby with Onion and Sharp Cheddar
1 cup skim milk (original recipe calls for whole milk)
4 large eggs
1/4 teaspoon salt
1 cup all-purpose flour
1 cup onion, chopped
1/2 teaspoon dried tarragon
1 cup grated, extra-sharp cheddar cheese
2 tablespoons butter
Adjust rack to middle position and heat oven to 425 degrees. Whisk milk, eggs and salt in a medium bowl; vigorously whisk in flour until mostly smooth with a few small lumps; let stand for a few minutes and whisk again. Or use a blender for instantly smooth batter. (I used the blender method – super easy.)
Meanwhile heat butter in a heavy-bottom 10 inch skillet (cast iron works well) over medium heat. Add onions and saute until transparent. Add tarragon; cook a minute or so longer. Pour milk mixture into skillet. Transfer to oven and bake until puffed and golden brown, 15-17 minutes.
Without removing Dutch Baby from oven, sprinkle with cheese and turn oven to broil. Broil until very puffy and golden brown, a couple minutes longer. (Careful on this step. As the picture shows, it goes from golden brown to that's-not-burned-it's-nicely-browned-now-shut-up-and-eat-it in a flash.) Serve immediately from the skillet.