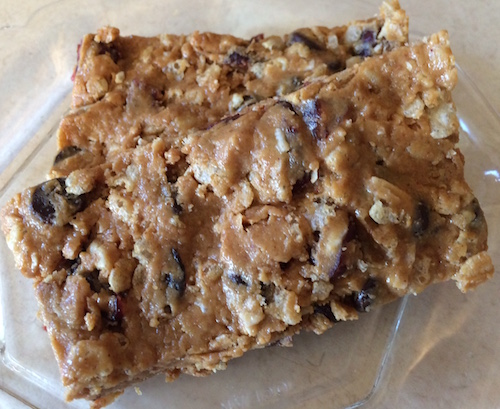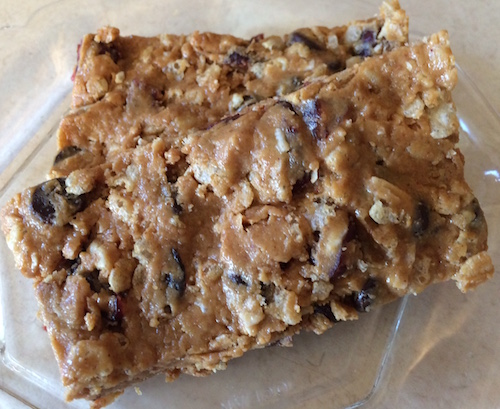 My daughter and I went to a coffee shop in Madison during my last visit. We spied homemade peanut butter protein bars in the cooler. My daughter picked one up. "These look good," she said.
"Too bad they probably have whey in them to jack up the protein," I said.
"No dairy," the woman behind the counter said. "But they do have flax seed."
The daughter and I were ravenous as we'd eaten only salad for lunch, so we laid two bars on the counter, ordered our coffee, and sat down to enjoy our treats and watch my adorable grandson be adorable.
The protein bars were delicious. So good we spent every minute we weren't laughing at the grandson's high jinks deciding what ingredients were in the bars so we could make them at home.
Here's the recipe I created after arriving home. That means the daughter hasn't taste tested them. But the Man of Steel and I both think their pretty good. The recipe's pretty forgiving, so you can add your favorite ingredients to the mix so they tickle your taste buds, too.
Dairy-Free Peanut Butter Protein Bars
1 cup natural peanut butter (the gooey kind)
1/4 cup ground flax seed
1/2 cup dried cranberries
1/2 cup Kirkland chocolate chips
1 cup puffed rice
1/4 cup shredded, unsweetened coconut
2 tablespoons honey
Combine all ingredients in a medium-sized bowl. Stir until well mixed. Press into a greased, square 9 x 9 pan. Put in refrigerator until firm. Cut into 12 bars. Cover and store in the refrigerator.