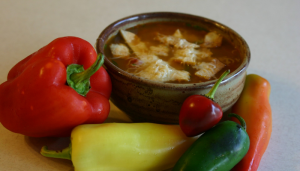 With the end of winter, soup season is almost over. But there's still time for one more soup recipe, one that's light and warm on a chilly spring evening.
My mom found the recipe in a free heart health publication at the grocery store a few years ago. It takes less than 45 minutes to prepare, though the adaptations below take a little more time. Chicken and chicken broth can be substituted for turkey, too.
Turkey Tortilla Soup
1 cup chopped onion
1 teaspoon olive oil
1 (4 oz.) can green chilies
1 (1.25 oz.) envelope dry taco seasoning
1 (16 oz.) can diced tomatoes, undrained
6 cups turkey broth
1 (10 oz.) bag frozen corn
2 cups cooked turkey, chopped into bite-sized pieces
1/3 cup chopped fresh cilantro
4 oz. tortilla chips
½ cup shredded Monterey Jack cheese
In a 5-quart saucepan, saute onion in olive oil over medium heat for 3 to 4 minutes. Stir in green chilies and taco seasoning. Cook 1 minute. Stir in tomatoes and broth. Bring to a boil. Add corn and turkey. Reduce heat to low and simmer 5 minutes. Add cilantro.
To serve, spoon soup into serving bowls. Top with tortilla chips and cheese.
Make Your Own Broth:
To make your own turkey or chicken broth, follow these steps.
Put turkey or chicken carcass in a stock pot.
Cover turkey with 8-10 cups of water. (Use 3-4 cups for chicken.)
Add a quartered onion, several garlic cloves and 2-3 stalks of celery.
Bring water to boiling, then cover pot and turn down heat to low. Simmer for 2-3 hours.
Remove pot from stove and let cool for 1 hour.
Use a slotted spoon to lift out carcass and put it in a pan to cool. Then pick off the meat and discard bones. Package meat and refrigerate or freeze to use in soup later.
Strain liquid and discard vegetables and bones. Pour broth into containers and refrigerate or freeze for later use.
Make Your Own Baked Tortilla Strips:
Preheat oven to 425 degrees. Cut pre-made tortillas into ½ inch strips. Spread on a cookie sheet and bake for 5-10 minutes, until strips are golden brown on the edges. Use in place of tortilla chips.