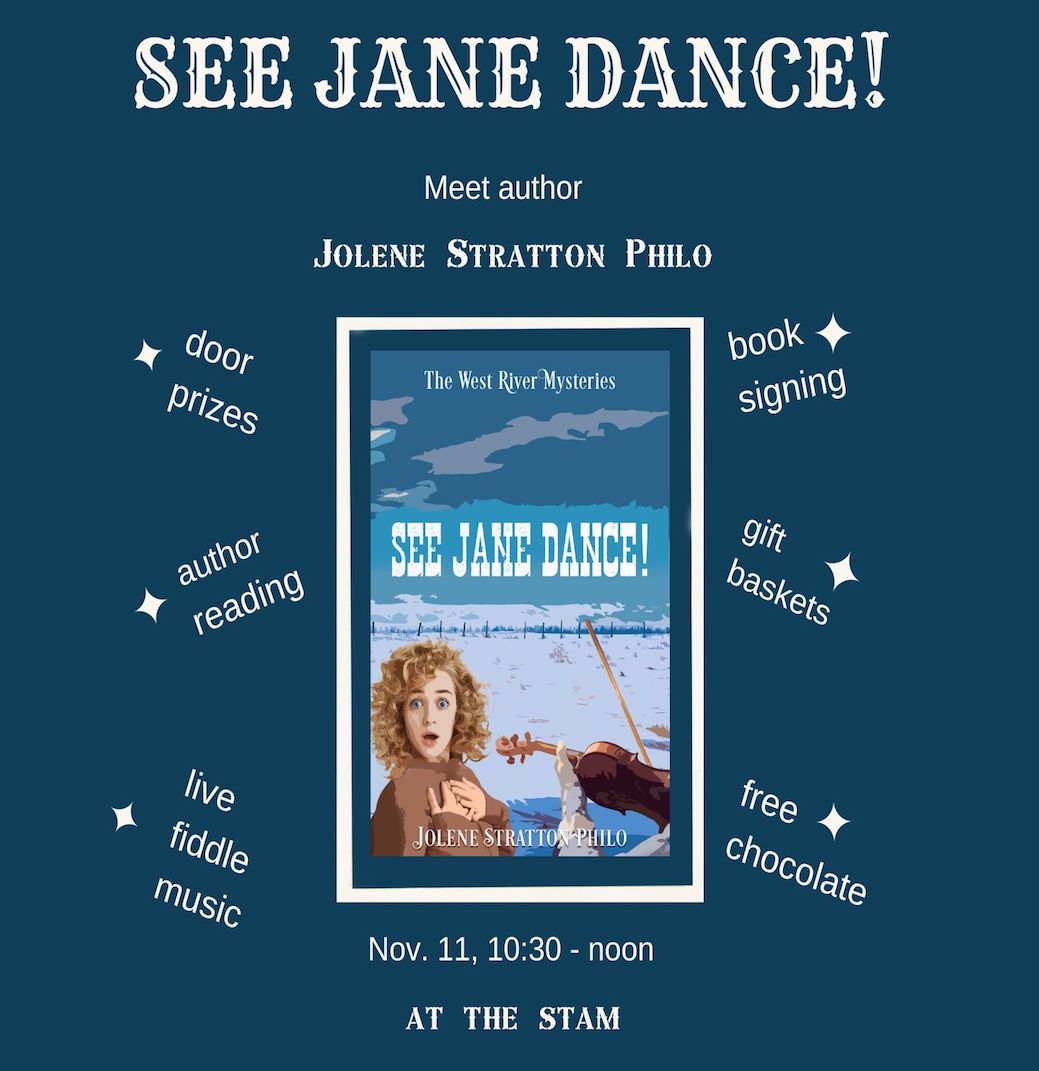 The See Jane Dance! party is coming soon! Here are the dance party deets:
DATE: Saturday, November 11
TIME: 10:30  – Noon
WHERE: Chocolaterie Stam
230 Main Street
Ames, Iowa 50010
The writer/teacher in me feels compelled to clarify certain aspects of the party. The See Jane Dance! party is NOT a dance party. Rather, it is a party to celebrate the launch of See Jane Dance!, the third offering in the West River Mystery series. I also feel compelled to say there will be live fiddle music, featuring the tunes Jane and the Little Missouri citizenry learned to square dance by. If the music makes you want to turn the See Jane Dance! book launch party into a dance party, I'll be dancing with you.
We'll also be celebrating the book's spectacular splash on Amazon. I mean, what's not to celebrate about hitting #1 in 3 Amazon categories and #27 in the entire Kindle Store?

Live fiddle music is just the beginning of the fun. You can also:
Enter the drawing for 4 door prizes: $25 Chocolaterie Stam gift certificates
Sample FREE Chocolaterie Stam chocolate
Participate in a book signing (bring your copies or purchase them on site)
Place silent auction bids for 3 gift baskets (all proceeds go to Wonderfully Made Family Camp)
Listen while the author (that would be me) reads a chapter from See Jane Dance!
Ask the author (still me) questions about the series
Get the inside scoop about See Jane Dig!, Book #4 in the series
Purchase treats at The Stam––chocolate, gelato, coffee, and tea––to enjoy during the party
Do some early Christmas shopping (Who doesn't want chocolate in their Christmas stocking?)
Come November 11, I hope you put on your dancing shoes and do si do on down to the Chocolaterie Stam in Ames and join in the celebration!