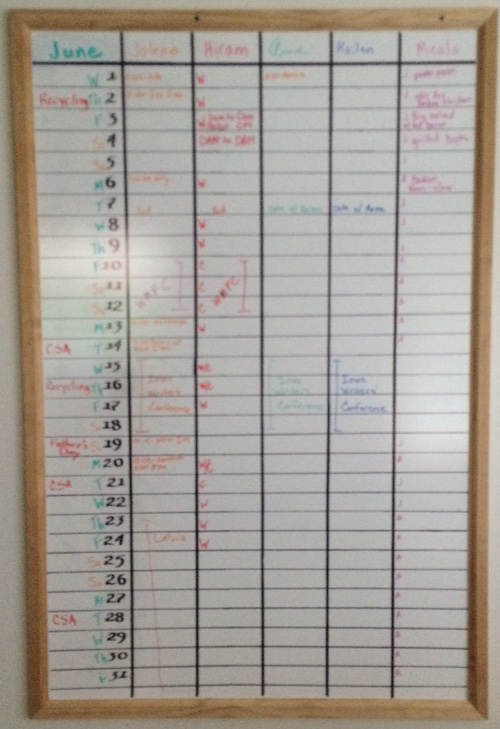 Yesterday's post listed 10 ways things have changed at our house since welcoming our daughter, son-in-law, their 1-year-old, and a dog in our house. Despite all the changes, the kitchen is open and serving meals. However, the cooks haven't had much time to try new recipes yet.
So instead of a new recipe, today's post showcases a DIY project that involved every adult in the house–the creation of a whiteboard calendar modeled along the lines of the Mom's Special Calendar I used for years when the kids were home. The new 3 x 4 foot calendar hangs on a wall in the kitchen and has columns for the date, every adult in the house, and an extra column currently being used for menu planning. It cost about $30 dollars, not counting the dry erase markers. Here's how we did it.
Diy Family Calendar Materials List
1 3 x 4 food sheet of white panel board, available at home improvement stores
1 6 foot and 1 10 foot piece of wooden molding
black permanent markers
dry erase markers
screws
wood tacks
How to Make the Calendar
Clean the panel board thoroughly with window cleaner and a microfiber rag.
Cut the 6 foot molding in to two 3 foot, 1 inch lengths.
Cut the 10 foot molding in to two 4 foot, 1 inch lengths.
Miter the ends of all 4 moldings.
Attach the molding to the back of the white board with wood tacks.
Use a yardstick and dry erase marker to measure and mark lines and columns on the white board. (The board pictured has 32 rows, the top one taller than the others. It has 6 columns, the first one wider than the others.)
Use a straight edge and permanent marker to draw lines and columns. Work carefully to avoid smudging.
Use a stud finder and mark their locations.
Drill holes in the studs.
Mark the location of the holes on the top end of the molding and drill holes in the molding.
Line the molding holes to the stud holes and screw in tightly.
Use the dry erase marker to write the months, names, and anything else that changes from month to month.