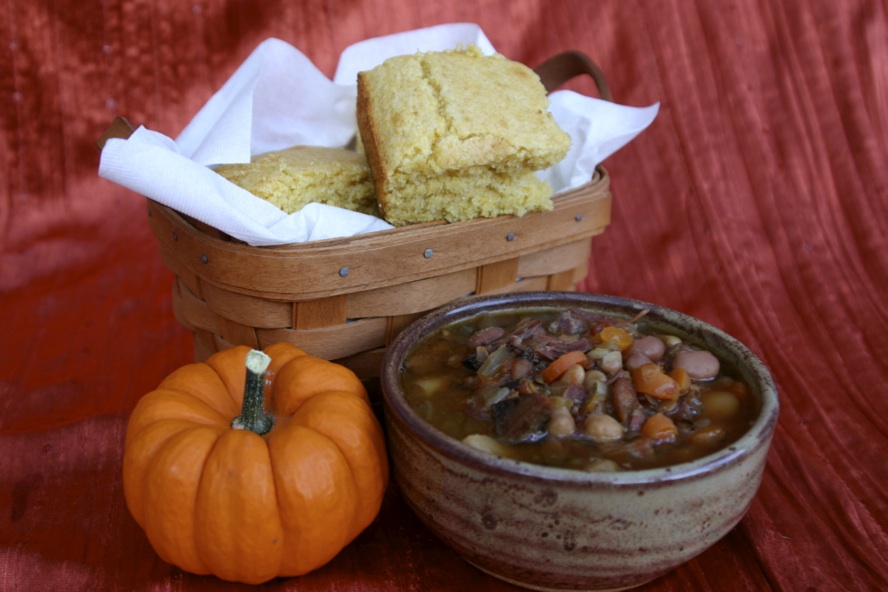 While compiling the top ten chilly weather meals posted a few weeks ago on Down the Gravel Road, I was surprised to discover bean soup was nowhere to be found. Today's recipe corrects that omission. Here's a favorite crock pot recipe that makes a perfect fall or winter supper.
Crock Pot Bean Soup
8 ounces dried bean soup mix        1 ham shank
2 cups water                                   1 10 ounce can Rotel tomatoes
1 cup diced carrots                         1 cup chopped onion
6 cups water
Soak bean soup mix in two cups of water overnight. In the morning, drain off water and rinse the beans. In the crock pot combine the beans and other ingredients. Cover with 6 cups of water. Stir and turn the crock pot to low for 10 – 12 hours or on high for 6 – 8 hours. Stir occasionally. About an hour before serving, lift the ham shank out with a slotted spoon and set on a plate. When the shank is cool, pick the meat off the bone. Discard the bone and put the meat back in the pot. Stir well. Makes 4 – 6 large servings.