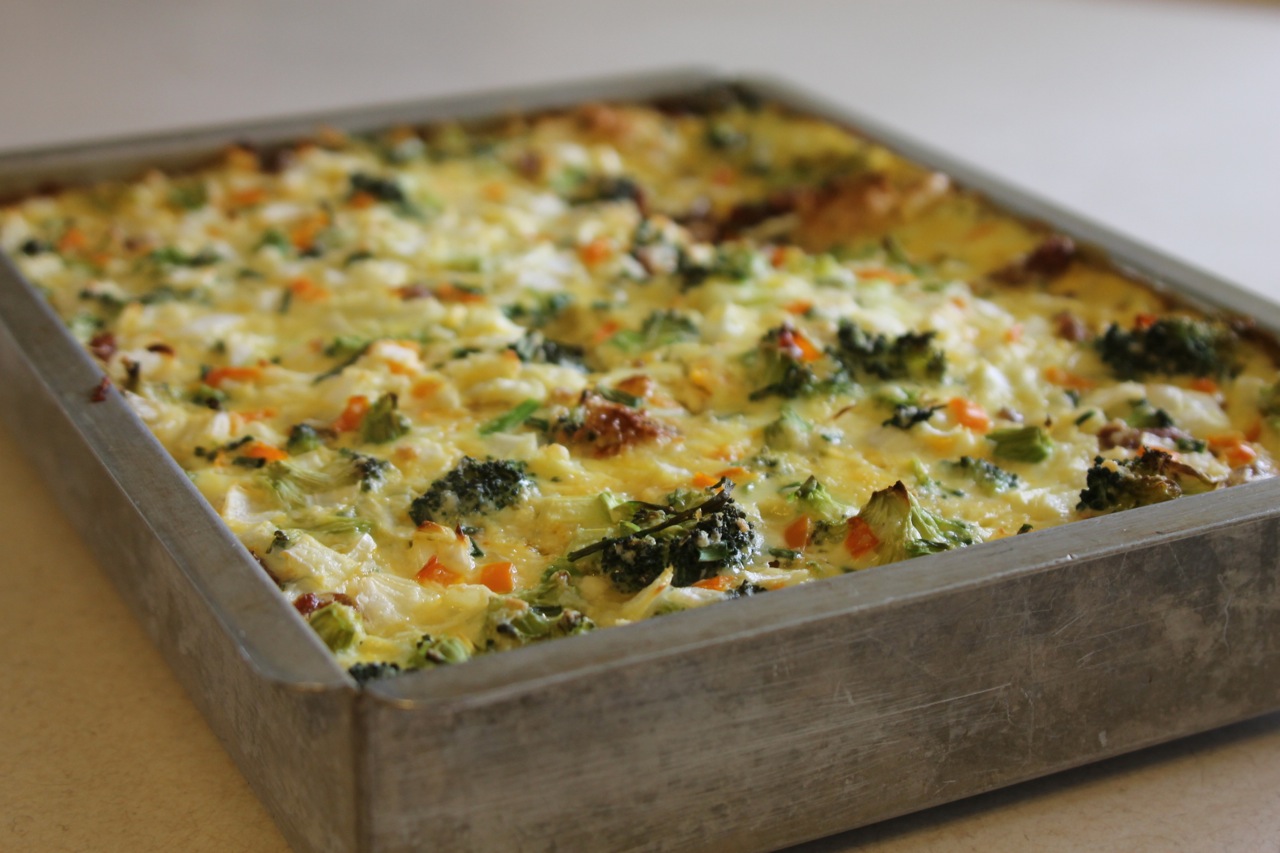 Yup, my hunt continues for a really good, non-dairy egg bake–or strata as it's know in more refined circles. Today's recipe, a variation the savory vegetable strata featured here in January, is the best one yet.
This time I used Tofutti Better Than Sour Cream in place of the cheese. It's made with tofu, but unlike most soy-based cheese shreds, it doesn't taste like soy. It tastes like sour cream and adds a rich, dairy-like creaminess to the dish. The man of steel, who has patiently taste tasted my egg bake attempts, agrees. Even before he thought to sprinkle Parmesan cheese on his portion, he called it the best yet and gave it an unqualified Hiram Seal of Approval. Okay, enough gushing. On to the recipe…
The Best Non-Dairy Egg Bake Ever
1 large onion, diced (about 2 cups)
1 pound Italian sausage
3 tablespoons fresh chives cut into small pieces (optional)
cooking spray
5 large slices of whole grain or whole wheat bread, cubed
10 large eggs
2 cups almond or rice milk (or a combination of the two)
1 8 ounce carton Tofutti Better Than Sour Cream
10 ounces chopped broccoli, steamed until tender but still firm, or 1 (10 ounce) package frozen chopped broccoli, thawed
1 teaspoon dried thyme or 1 tablespoon fresh
1/2 teaspoon salt
1/2 teaspoon freshly ground black pepper
If using fresh broccoli, steam it and set aside to cool. Brown the sausage in a skillet. Drain off fat.
Coat a 9 X 13** baking dish with cooking spray. Arrange bread cubes in the bottom. Arrange sausage on top of bread.
In a large bowl beat the eggs, milk substitute, and sour cream substitute until well-mixed. Add the vegetables and stir. Pour mixture evenly over the bread, so liquid soaks into bread uniformly.
Preheat oven to 350°. Uncover and bake until top forms a light brown crust, 60–70 minutes. Serve immediately. Serves 12