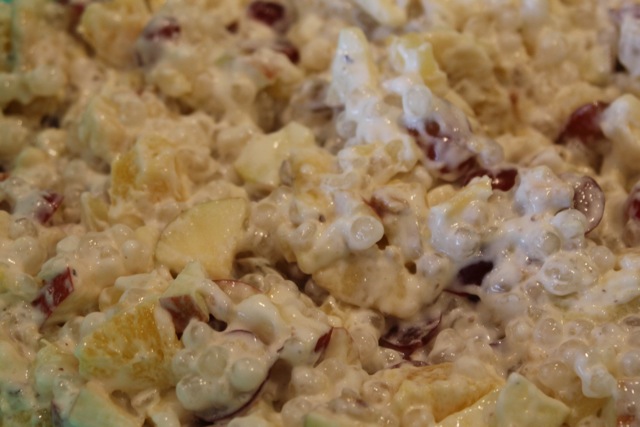 Our extended family is celebrating both Thanksgiving and Christmas this weekend. That means I'm making Grandma Josie's tapioca fruit salad. We only make this versatile dish–it works as a side dish, dessert, or breakfast food–for Christmas and eat it as greedily as hobbits eat mushrooms. Here's the recipe.
Holiday Tapioca Fruit Salad
1 box (8 ounces) large pearl tapioca
4 cups water, divided into two equal parts
1/2 cup sugar
1 20 ounce can pineapple tidbits
1 cup heavy whipping cream
1/4 cup sugar
1-2 tsp. vanilla
2 cups seedless red grapes, halved
1 cups chopped walnuts
2 apples, cored and diced
2 bananas, sliced
2 oranges, diced
The night before the meal, put tapioca in a medium bowl. Add 2 cups of water to the tapioca, cover, and let soak overnight.
Several hours before serving, place soaked tapioca in heavy saucepan. Add 2 cups water and the sugar. Cook over medium heat, stirring constantly, until most of the tapioca is translucent and the mixture is very thick. Pour into a large bowl and immediately add pineapple (juice and all) into the thick tapioca. Stir thoroughly. Put in the refrigerator or on the porch to cool.
An hour before serving whip the cream. Add sugar and vanilla. In a large bowl mix the tapioca, fruit, (except the bananas), and whipped cream together. Immediately before the meal, slice the bananas and stir them in, along with the nuts.