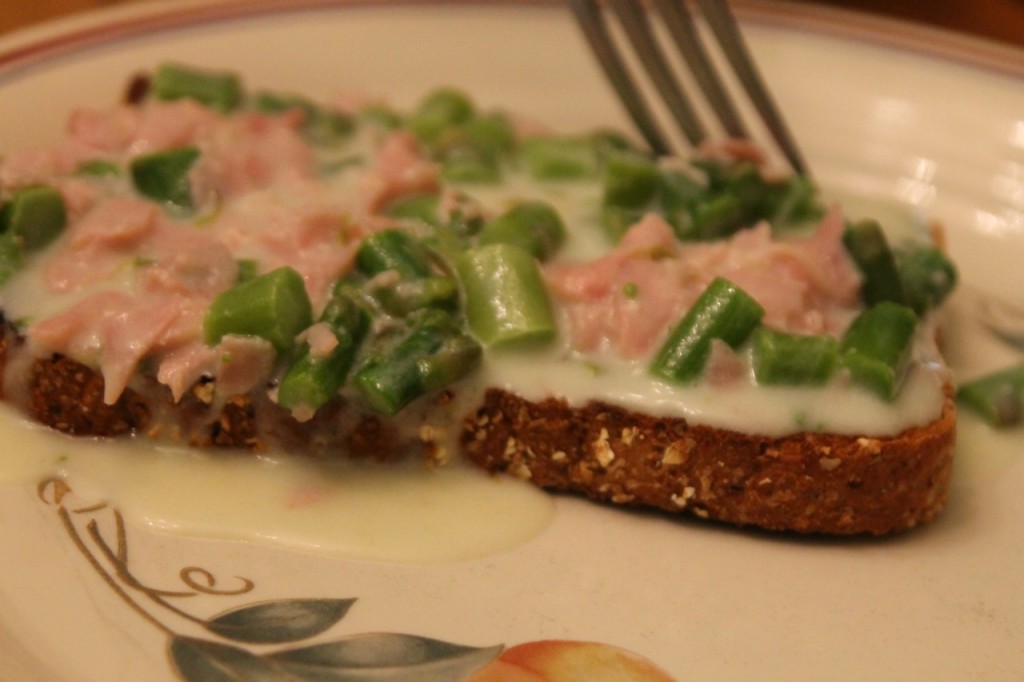 Yes, you read that right. Today's post features an asparagus recipe, even though I do not like asparagus. Wait. That's an understatement. I despise asparagus.
But last week a friend gave us a bag full of the despicable stuff. So the man of steel and Camp Dorothy namesake rustled up one of their favorite springtime meals. One of them had a wonderful time oohing and ahhing, smacking her lips and and saying, "Jo, you don't know what you're missing." Then she bailed and left the other one on dishwasher duty while she watched Wheel of Fortune. Don't ask me to name names because I'm not that kind of person.
This recipe is mostly guesswork (Translation: Mom didn't use a recipe years ago when she taught us to make it.), but here's my best guestimate at ingredient amounts and cooking times.
Creamed Asparagus on Toast
2 cups washed, fresh asparagus, cut into 1/2 inch lengths
2 tablespoons butter
2–3 tablespoons flour
2 cups milk
1/2 cup ham, diced (optional)
Melt butter in sauce pan over medium heat. Add asparagus and ham. Saute for 2 minutes. Add flour and stir until the flour/butter mixture bubbles.
Add milk, a few tablespoons at a time, stirring well after each addition so the mixture doesn't become lumpy. Stir constantly until mixture comes to slow boil. Turn down heat and boil for a minute or two. Serve over toast.