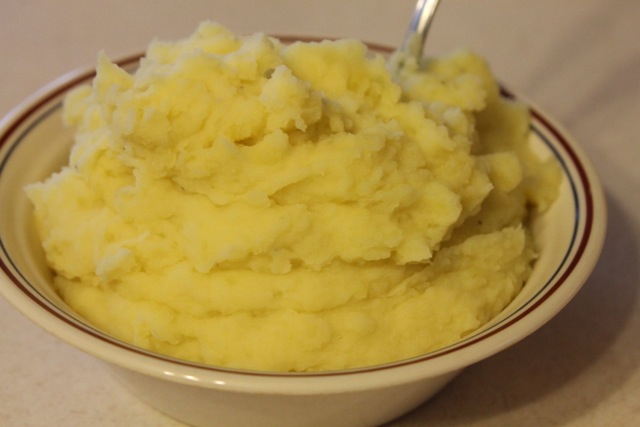 Mashed potatoes is one of those foods that makes winter palatable. But Mom's version of this comfort food is made with lots of butter and milk.
Which makes them very buttery and smooth.
Which is what makes them comfort food.
Which doesn't jibe with my new dairy-free diet.
Which made winter rather unpalatable.
Until I discovered a secret ingredient that gives dairy-free mashed potatoes the buttery, comfort flavor I love so much. What is the secret ingredient? Yukon Gold potatoes!
Dairy-Free Mashed Potatoes
4–5 Yukon Gold potatoes
2 tablespoons margarine
1/4–1/2 cup almond milk, soy milk, rice milk, or chicken broth
salt and pepper
Peel, cube, and wash potatoes. Put in sauce pan and add water until the bottom half of the potatoes are covered. Bring to a boil, uncovered, over high heat. Turn down heat to maintain a low boil and cover. Boil 15–20 minutes until tender.
Drain off water. (You can save water and add it to gravy or use it as liquid in homemade bread.) Add margarine to potatoes. Use a hand potato masher or electric hand mixer to mash potatoes and margarine together. Add milk or broth a few tablespoons at a time until potatoes are the consistency you like. Keep mashing until lumps are gone. Add salt and pepper to taste. Serve hot.