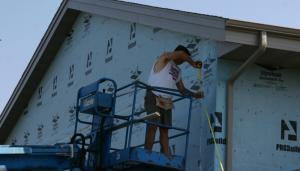 And he brought us into this place and gave us this land,
a land flowing with milk and honey.
Deuteronomy 26:9
I am so ready to say good-by to our old church digs. No more dark, dingy Livery basement with its mold and mildew that wreaked havoc with allergies. No more trailer to unload and load Sunday morning at the high school auditorium. No more hunts for a janitor to unlock doors. No more nursery or kids' Sunday school in the hallways. No more dance decorations to send kids into overdrive. No more bone-chilling cold during worship. No more, no more, no more.
In fact, my eyes have been so focused on Division Street, our promised land flowing with milk, honey, that I've forgotten to be thankful for God's provision while we wandered the wilderness. For almost ten years He faithfully provided space to meet our needs. To be sure, sometimes we were cramped. Often, the arrangements were inconvenient. Constantly, we were forced to make do, innovate, and adapt.
But, through it all, we learned to respond with more creativity than we knew we had. We learned to rely upon one another, persevere when faced with obstacles, laugh in the midst of ridiculous situations, and wear long underwear to church in October.
More important, we saw God present among us, honoring our feeble attempts to honor him. We observed how He answered our prayers in unexpected ways and in His perfect time. We felt His Spirit envelope both the basement of an old livery stable and an ordinary high school auditorium, transforming them into holy ground.
So before we move to the land of milk and honey, we should pause and give thanks for what God has done during our decade in the wilderness. For providing this house of worship. For constantly demonstrating His faithfulness. For maturing us into a persevering people confident in His power.
And as we move ahead, we must continue to pray for what we leave behind. Pray that His Spirit will linger in this high school and the Livery, changing the hearts of students, staff, and businesspeople. Pray that we use the energy formerly required to set up and tear down each Sunday and direct it in compassion toward the lost in this town. Pray that the memories of cramped spaces, making do, and unloading the trailer will remain fresh in our minds so we never take our new home for granted.
Pray humbly. Pray thankfully. Pray confidently. Pray expectantly.