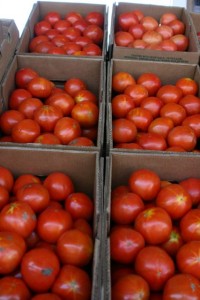 Between helping with our friends' wedding rehearsal supper and a day at the Iowa State Fair, the past week wasn't conducive for cooking. So no new recipe this week. Instead, I'll share some tips that will maximize the flavor of your summertime produce.
Tips for Choosing the Best Peaches
Do not use California peaches if you live in the midwest. Who knows why – distance, picked too soon, whatever – but it's hard to get good California peaches in this part of the world.
In the midwest, the best peaches come from Missouri, Michigan, Colorado and Georgia, in that order.
Smaller peaches are usually better than large ones.
Choose peaches with a little blush and a lot of clear, yellow color.
Let the peaches ripen in a bowl or paper bag until your kitchen smells just peachy. Then they're ready to use.
Peach season runs from early July to mid-August. It's hard to get good peaches outside those time parameters.
Tips for Making the Best BLTs
Wait until your tomatoes are really ripe to use them. Yes, I know it's hard. But you'll be glad you did.
Slice tomatoes with a serrated knife. You can buy a tomato knife, but a steak knife works just fine, too.
Slice sandwich tomatoes very, very thin when serving people who aren't crazy about them.
Slip the tomato between the lettuce and bacon so the bread doesn't get soggy for your texture-sensitive eaters.
Tips for Easy Pesto Making
When making basil pesto, put the oil in the blender and run the garlic through a garlic press before adding it to the oil. This will avoid chunks of garlic in the pesto.
After adding the garlic, add basil leaves before adding the nuts or salt. The basil blends into the oil much easier this way. Add about a half a cup of basil at a time. Mix well, then add another handful of basil, mix, and repeat until all the basil is pulverized.
Finally, add the salt and nuts. The salt won't sink to the bottom and the nuts will grind beautifully.
There you have them. My top summer cooking tips. What are your secrets for working with summer produce? Leave a comment!