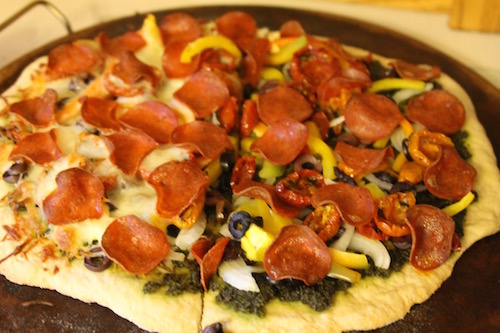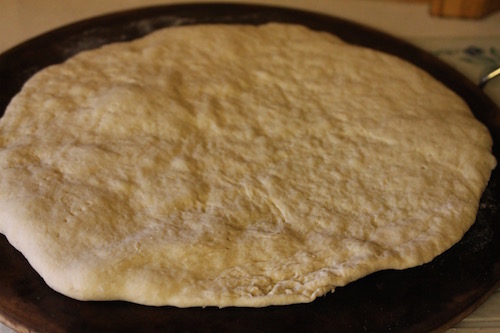 Since the great allergy elimination diet of 2015, an event I hope never to repeat in this lifetime, I've cut down on carbs and products containing yeast. A very sad turn of events since I love pizza. And though I've learned to love it without cheese, I don't want to get rid of the crust, too. Or make the cauliflower crust that's all the rage these days. I just can't go there.
So in an effort to find the next best thing, I gave no yeast pizza dough a try. I started with a recipe for healthifed pizza dough and substituted almond milk for the milk to make it dairy free. The Man of Steel agrees it's a recipe worth tweaking, but for now we both still prefer pizza dough with yeast. That said, here's how I made it.
No Yeast Pizza Dough
1 1/3 cups flour
1 teaspoon baking powder
1/2 teaspoon kosher salt
2 tablespoons olive oil
1/2 cup almond milk
Heat oven to 425 degrees. Place pizza stone in oven to heat. Mix the dry ingredients together in a medium bowl. Add oil and almond milk. Stir with a fork until it forms a soft dough. Put dough on a well-floured surface and knead 10 times. Cover and let set 10 minutes.
Form dough into a round disk and roll into a thin circle on a lightly-floured surface.. Place a piece of wax paper on top of the dough. Grasping the edge of the paper and the edge of the dough, carefully roll them together into a tube. (Use a spatula to release any dough sticking to the surface.) Remove pizza stone from oven and unroll the tube, dough side down, onto the stone. (See picture above) Discard the wax paper. Pri.ck dough in several places with a fork
Bake the dough for 8-10 minutes. Remove from the oven and add toppings. (Ours has basil pesto for sauce, oven-roasted tomatoes, thin-sliced onions and sweet pepper, cheese (on the Man of Steel's half), and turkey pepperoni.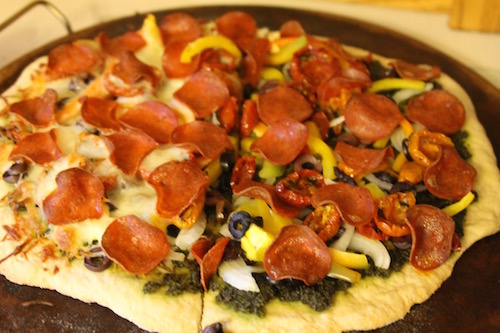 Put in oven and bake for 10-15 minutes longer. Remove when cheese is melted and edges of crust are golden brown. Slice and enjoy!