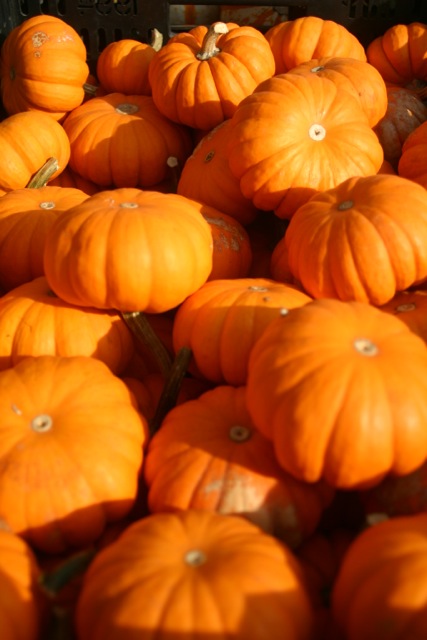 With my cooking skills curtailed, testing new recipes is on hold for the foreseeable future. So here's a rerun of a pumpkin spice lover favorite. It's easy, sort of healthy, and dairy-free without any tweaking.
Pumpkin Bread
3 1/2 cups flour                                                       1 cup sugar
2 tsp. baking soda                                                   1 cup oil
1 1/2 tsp. salt                                                            4 eggs
1 tsp. cinnamon                                                       2/3 cup water
1 tsp. nutmeg                                                           2 cups canned pumpkin
1 cup chopped walnuts (optional)
Preheat oven to 350 degrees. Mix dry ingredients together, then mix in wet ingredients and nuts. Pour into 3 greased loaf pans. Bake for 1 hour or until golden brown. Let cool for at least thirty minutes before taking them out of the pans. (I sometimes make the bread in large tin cans so the slices will be round. If you do that, cut down the baking time.)
How to Make Pumpkin Filling:
With a large, sharp knife cut pie pumpkin in half.
Remove the stem and throw away.
Use an ice cream scoop to scrape the seeds and stringy matter from the cavity of the pumpkin.
Slice each half into 3 or 4 wedges.
To steam the pumpkin, cover either the bottom of roasting pan or dutch oven with water. Place pumpkin wedges in the pan. Put the covered roasting pan in the oven for about an hour at 350 degrees. Or put the dutch oven on the stove and let simmer for about an hour or until the pumpkin is fork tender. Remove from heat.
When the pumpkin is cool, remove the outer skin. Cut the pumpkin into chunks and place the chunks in the blender to puree.
Pour into in zippered freezer bags in desired amount and freeze.