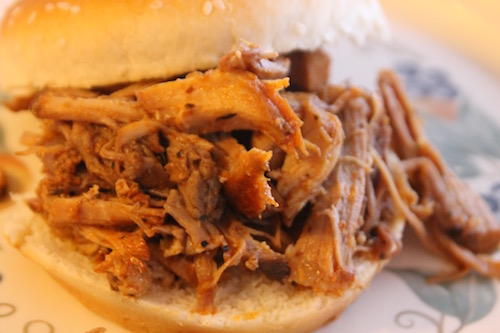 During our last visit to see the grandkids, the cook served the most delicious pulled pork. The Man of Steel raved over it so much I had to asked for the recipe and was directed to the 100 Days of Real Food website. That's where I learned that the recipe for crock pot pulled pork was low in sugar and had no preservatives. Plus it was easy, and has been mentioned before, had already received the coveted Hiram Seal of Approval.
This makes a large batch. We ate some, saved some for left overs, and froze the rest for another meal in a couple weeks.
Crock Pot Pulled Pork
3 tablespoons paprika
1 tablespoons salt
2 teaspoons black pepper
½ teaspoon cayenne pepper
1 teaspoon garlic powder
½ teaspoon dried thyme
½ cup honey
¼ cup red wine vinegar
3 tablespoons olive oil
1 onion, peeled and cut in half
3 to 3 ½ pounds pork shoulder, cut in half
In a bowl, mix the dry spices together with a fork.
Add the honey, vinegar, and olive oil and stir until smooth.
Place the onion in the bottom of the crock pot Top it with the 2 pieces of pork and then pour the spice mixture over every side of the meat.
Turn the slow cooker on to low and cook for 6 hours or until the meat is tender enough to be easily shredded with a fork.
Remove the meat from the crock pot and place in a pan to cool. Once it has cooled, shred the meat and return it to the liquid in the crock pot.
Serve warm on buns. For a side dish try fresh spinach salad.