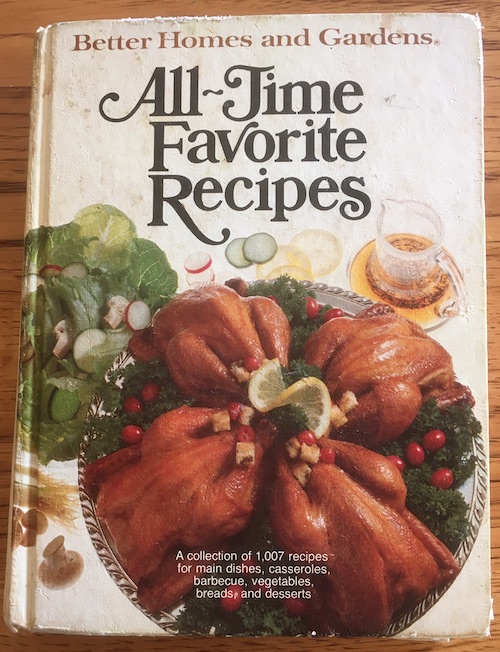 During our years in Harding County, South Dakota, I added 2 cook books to what was a meager collection. The first was the Camp Crook Centennial Cook Book. which I purchased after it came out in 1982. The second, the Better Homes and Gardens All-Time Favorites that was published in 1979, was a gift from my mother-in-law Elsie Philo. Anyone who knew Elsie for more than ten minutes knows that she didn't like to cook. At all. However she knew I loved to cook, so I received her gift with heartfelt gratitude.
Many of the recipes were on the fancy side, requiring either ingredients small grocery stores didn't carry or preparation time beyond my limited supply as a country school teacher and mother to a toddler with significant medical needs. But I have used the basic sweet dough recipe found on page 380 for almost 40 years, and it's the reason for the cook book's worn cover. This past weekend, I made caramel rolls using the basic sweet roll recipe as I have always done on one fall Saturday or another as the weather turns cool.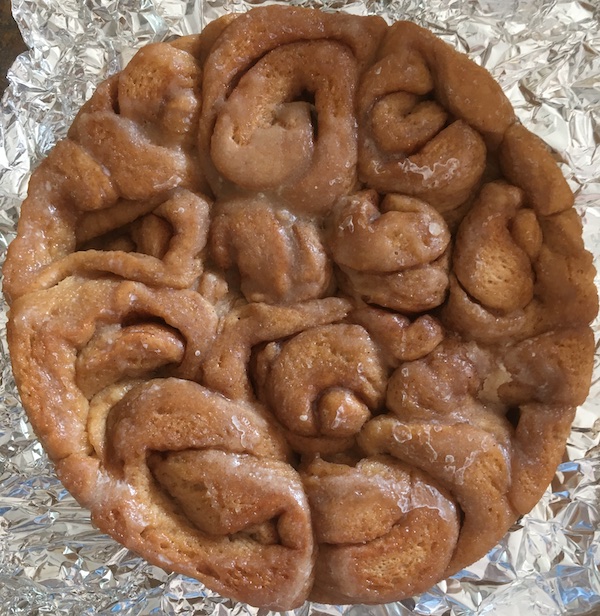 I made 2 double batches of the recipe below and baked them in pans of 12 rolls each. Our freezer now holds 7 foil-wrapped packages and our collective stomachs (Hiram, our daughter, our-son-in-law, the toddler, and mine. Our grandson has his own gluten-free version.) hold the contents of 1 dozen. Here's the recipe updated to be dairy-free and for kneading by a mixer with a dough hook, something not available in what my grandchildren refer to as "the olden days."
Basic Sweet Roll Dough
3 1/2 to 4 cups unbleached flour (I used 2/3s whole wheat bread flour)
1 package active dry yeast
1 cup water for dairy free
1/8 cup sugar
1/4 cup lard
1 teaspoon salt
2 eggs
In large mixer bowl, combine 2 cups of flour and the yeast. In saucepan, heat water, sugar, lard, and salt until mixture is warm (just begins steaming) and lard is melted. Add to flour in the mixing bowl. Add the eggs.
Beat on low speed of electric mixer for 30 seconds, scraping sides of bowl constantly. Beat 3 minutes at high speed. Using dough hook on mixer, stir in as much remaining flour as possible. Continue mixing until dough is smooth and elastic and comes away from the bowl's side to form a ball on the dough hook (6 to 8 minutes). Remove from the bowl and shape into a ball.
Place ball of dough in lightly greased bowl, turning once to grease surface. Cover. Let rise in a warm place until double (45–60 minutes). Punch dough down. Turn out onto lightly floured surface. Continue as directed below.
Caramel Rolls
Basic Sweet Roll Dough
3 tablespoons Earth Balance buttery vegan sticks, melted
2 tablespoons brown sugar
1 teaspoon ground cinnamon
1/2 cup brown sugar
1/4 cup butter (Earth Balance or coconut oil for dairy free)
2 tablespoons light corn syrup
Combine 1/2 cup brown sugar, 1/4 cup Earth Balance and corn syrup in a saucepan. Cook, stirring constantly until shortening is melted and mixture is blended. Distribute mixture evenly in two 9×1 1/2 round or two 8×8 square pans or one 9 x 13 cake pan.
Roll sweet dough into a 24×16 inch rectangle. Brush with melted Earth Balance. Combine 2 tablespoons brown sugar and cinnamon and sprinkle mixture over dough. Starting from long side, roll up dough jelly-roll style. Seal seam. Slice into 24 rolls.
Place rolls, cut side down, in prepared baking pans. Cover and let rise in a warm place until double (about 30 minutes). Bake at 375° for 18–20 minutes. Cool about 30 seconds. Invert onto racks covered with foil and remove pans. Makes 24 rolls.
Sign up to receive website updates and See Jane Run! book news on Gravel Road's home page right under the picture of–you guessed it–the gravel road.