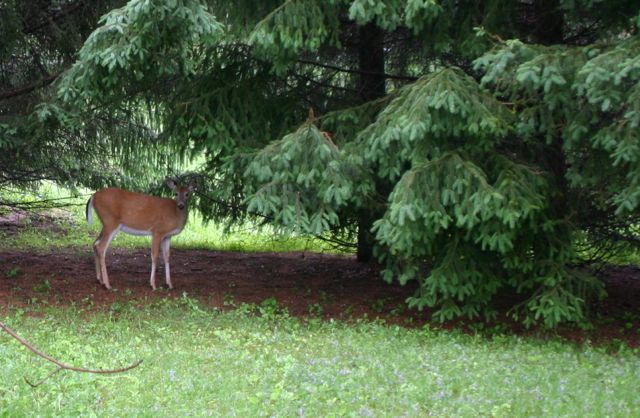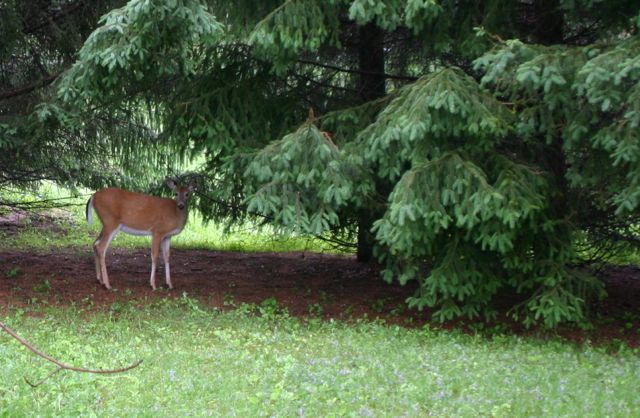 Last week, my heart grew heavier and heavier
as the media reported more and more bad news.
Downed airliners.
Fighting in the Middle East.
People in this country shouting at refugee children,
holding ugly signs telling them to to home.
I gave God an earful.
I told him I wasn't sure about living in a world as cruel as this,
a world stripped of loveliness and compassion,
a world devoid of beauty.
And then, God answered,
as He so often does,
on my morning walk.
I looked up,
and there on the edge of the woods,
stood a doe.
Immobile.
I walked closer and closer
to where she stood sentry.
Closer than I've ever been to a deer before.
Close enough to see
her heavy udder,
her swollen teats.
She bravely held her ground,
watching over a hidden fawn,
trembling,
but never flinching
as I passed by.
Then, at the end of my walk
as I ascended our driveway,
God spoke again.
A male indigo bunting,
very small,
very young,
sat on the gravel only a few steps away.
He hopped about,
flew into the bushes unsteadily,
then flew with wobbly precision across the driveway
and perched in one tree,
then on the dead branch of another.
I stood,
transfixed by the courageous bird,
patchy with iridescent blue feathers
and intoxicated
with the freedom of flight,
until he took wing again
and flew away.
"My world is filled
with brave mothers,
with courageous children,"
He said.
"My world is filled with beauty."