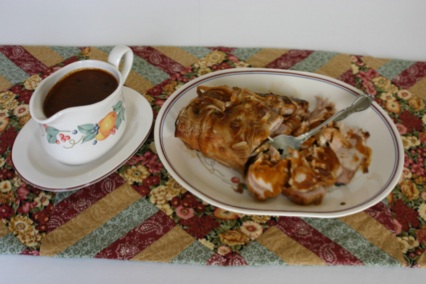 This recipe has been a family favorite since the first year Hiram and I were married. We found it in the cookbook that came with the crock pot we received as a wedding present in 1977. This pork roast recipe receive the coveted Hiram seal of approval long before the award was invented. It's easy, delicious, and wows people at dinner parties. Without further ado, here's one of my all time favorite recipes.
Oriental Pork Roast with Gravy
2 – 3 pound pork roast                1 small onion, thinly sliced
1/3 cup soy sauce                      1 clove garlic, minced
Place pork roast in crock pot. Pour soy sauce over roast. Sprinkle roast with minced garlic. Arrange sliced onion on top. Turn crock pot on low setting and cook for 8 – 10 hours. Twenty minutes before serving, lift roast onto a serving platter. Slice meat and cover it to keep it warm.
To make gravy, pour drippings into a measuring cup. Skim off fat. Add water to drippings until you have 1 ¾ cups of liquid. Put liquid in a saucepan. Blend together 1/3 cup flour and ½ cup water. Slowly add flour mixture to liquid in the saucepan. Heat, stirring constantly, until liquid comes to a rolling boil. Turn down heat and let it boil gently for a few minutes. Pour into a gravy boat and serve with the meat.