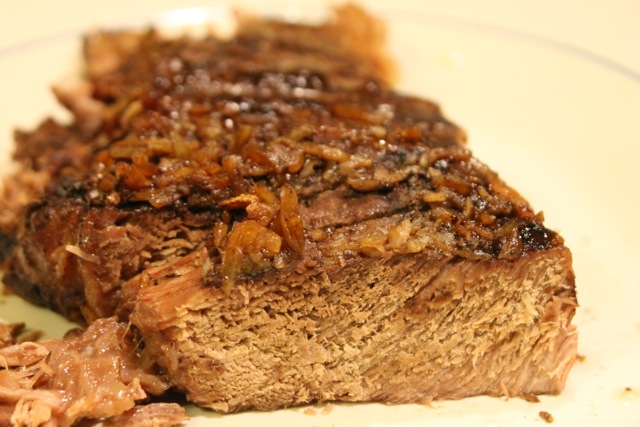 This week's recipe comes from the old-as-the-hills category of the family cook book. I remember Mom making this in a dutch oven before crock pots came into vogue…which happened around the time we got married in 1977. One of our wedding presents was a crock pot, so I've always made it that way. (No, I don't have the original crock pot any more.)
What with the price of beef and us trying to eat healthy, I don't make pot roast very often. But when it's on the menu, we indulge completely. I make gravy from the rich broth and whip up mashed potatoes. If you prefer, use the meat for French dip sandwiches as the broth is perfect for dipping. However it's served, this meal always gets the Hiram coveted seal of approval.
Crock Pot Beef Pot Roast
2 1/2 to 3 1/2 pound roast (arm, chuck, or rump)
1 package dry onion soup mix
In the morning, sprinkle half the onion soup mix in the middle of a sheet of aluminum foil large enough to wrap around entire roast. Put roast on soup mix and sprinkle the rest of the mix on top of roast. Wrap and seal roast inside foil.
Place roast in crock pot (do not add water), cover, and cook on low all day. About 20 minutes before serving, remove roast from crock pot and put on large plate. Cover with lid. Pour broth into sauce pan and skim off grease. Use broth to make gravy or for French dip sandwiches. Slice roast shortly before serving.