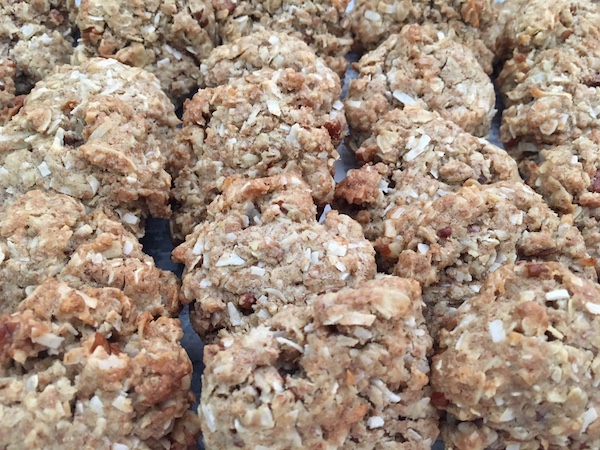 The original recipe for these coconut cookies was given to me in the mid-1980s by a woman who remains a dear friend. I've reworked the recipe a couple times to make it dairy-free and as healthy as any cookie can be. You'll find the most recent version below. Enjoy!
Coconut Cookies Redo
1 cup brown sugar
2 eggs
1/2 cup Earth Balance Soy Free Buttery Sticks, softened
1/2 cup lard, softened
1 teaspoon vanilla
2 cups whole wheat flour
2 cups oatmeal
1/4 teaspoon baking powder
1/2 teaspoon soda
1/2 teaspoon salt
2 cups unsweetened, shredded coconut
1 cup chopped pecans, toasted
Preheat oven to 350°. Toast the pecans in the oven for 5-7 minutes. Remove them from the oven and cool.
Cream sugar, shortening, and eggs until light and fluffy. Add vanilla, flour, soda, baking powder, and salt. Mix well. Add oatmeal, coconut, and nuts. Stir well after each ingredient is added.
Drop dough by rounded spoonfuls onto cookie sheets. Bake for 8 – 12 cookies, depending on how chewy you like them. Makes about 4 – 5 dozen.