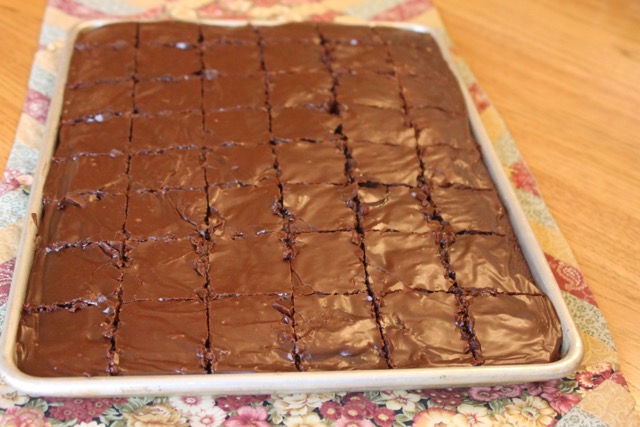 A couple weeks ago, our Connection Group prepared the meal for a church fundraiser. I was in charge of dessert–buttermilk brownies with ice cream, as well as non-dairy buttermilk brownies without ice cream for those who needed that option, and Rice Krispie treats for the gluten-free, dairy-free contingent.
The brownies were a hit, and I was assigned brownie duty for all upcoming fundraisers. In case you're looking for an easy recipe that will please a crowd, here's the dairy version as the non-dairy recipe has appeared on Gravel Road before.
Dairy Free Buttermilk Brownies
Bars:
1 cup butter
1/3 cup cocoa
1 cup water
2 cups unbleached flour
1 1/2 cup sugar
1 teaspoon soda
2 eggs, slightly beaten
1/2 cup buttermilk
1 1/2 teaspoon vanilla
1/2 teaspoon salt
Preheat oven to 375°. In saucepan, combine butter, cocoa, and water. Bring to a boil, stirring constantly. Remove from heat.
In a large mixing bowl, sift together flour, sugar, soda, and salt. Stir in eggs, buttermilk, and vanilla. Add cocoa mixture. Mix till well-blended. Pour into a greased 15 1/2 by 10 1/2 inch baking pan. Bake for 20 minutes. Immediately pour frosting over bars. Spread evenly. Cool and cut into squares.
Frosting:
1/4 cup butter
1/4 cup buttermilk
3 tablespoons cocoa
2 cups powdered sugar
1/2 teaspoon vanilla
In saucepan, mix 1/4 cup butter, 1/4 cup buttermilk, and 3 tablespoons cocoa. Cook and stir until boiling. Remove from heat. Beat in powdered sugar and 1/2 teaspoon vanilla. Pour over bars as soon as they come out of the oven. Sprinkle with chopped nuts, if desired.