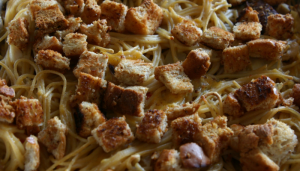 Today's recipe is a family favorite at the Philo house. It comes from old South Dakota friends. Connie, who was Allen's babysitter, served it often when our families had supper together. About six months after our move to Iowa, I developed a serious craving for tetrazzini. Finally, I called Connie, and she gave me the recipe over the phone. We had it for supper the next night, and it's been a staple on our menu ever since.
Connie's recipe was peppered with amounts like "half a chunk of cheese," "some broth," and "a handful of spaghetti noodles," and my version hasn't progressed much further. That means you can take the recipe and adapt it for your use, too.
A few FYIs are in order, too. First, chicken and turkey can be used interchangeably in this recipe, as can chicken and turkey broth. Second, if you want to make your own broth, go to this link and scroll to the bottom for directions, Third, this is a wonderful way to use turkey leftovers. Fourth, fix double or triple batches when cooking because it freezes well. Fifth, my recipe has no salt and pepper. People add it at the table, along with Parmesan cheese.
Turkey (or Chicken) Tetrazzini
2 – 3 cups cooked, deboned, cubed chicken or turkey
1 cup shredded cheddar cheese
1 1/2 cups chicken or turkey broth
3 tablespoons butter
1/4 cup flour
1/2 cup onion, chopped
1/4 cup green or sweet red pepper, chopped
12 ounces spaghetti
6 slices of bread, toasted and cubed
1/4 cup melted butter
Heat oven to 350 degrees. Put cubed turkey and cheese in a greased 9 x 13 pan. Cook spaghetti according to package directions and drain. Rinse with cold water and place in pan with turkey and cheese. Stir well.
While spaghetti is cooking, melt 3 tablespoons of butter in a sauce pan. Add onions and pepper. Saute until onions are transparent. Add flour and mix well. Slowly add broth, whisking and stirring constantly until it boils. Let it boil gently for one minute. Pour sauce over noodle/meat/cheese mixture and stir well.
Toast the bread and cut into cubes. Drizzle with 1/4 cup melted butter and stir well. Sprinkle croutons over the noodle mixture. Bake for 1/2 hour. Serve with a green salad and fresh fruit. Yum!