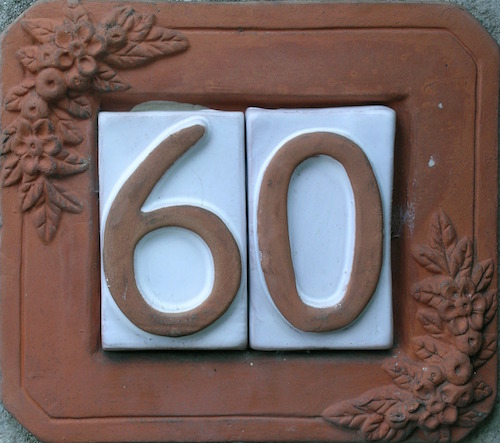 Tomorrow's my 60th birthday, and I'm looking forward to it. Really I am, and for these 10 good reasons.
10. Ordering off the 55+ menu at IHOP will be easier. Five years ago, doing so made me feel like an imposter. Now I feel like I've earned it.
9.  The AARP has lowered their annual membership price to $12 in honor of my birthday. Thoughtful as the gesture is, I'm not taking them up on it.
8.  Tomorrow morning, I will be grateful for the ability to walk 6 miles pain free…even at my age.
7.  German Chocolate Birthday Cake! Need I say more?
6.  When people inquire about my age, and I tell them, with suitable self-effacement that I am 60, they will have all the more reason to respond, "You certainly don't look your age." (And this would be your cue to type something similar in the comment box.)
5.  Being 60 makes the fact that my mystery novel, set in the decade when I was in my 20s, is considered historical fiction a little easier to swallow. Mainly because I can wash it down with birthday cake. (See #7)
4.  On my official birthday, all those early Facebook birthday wishes will no longer feel like being pushed into old age.
3.  Once I'm 60, the Man of Steel, who hit the same milestone waaaay back in March, will no longer feel as though he robbed the cradle.
2.  The day will remind me of Mom's 60th in 1988. Our son was 6, and our daughter was a newborn when the sibs and I hosted a gigantic surprise birthday shindig at her church in Le Mars. She was clueless, and the many friends and family members who gathered to honor her, was a glorious tribute.
1.  I'll be celebrating my birthday with my family. What could be better?
I'd love to hear bout your 60th birthday memories in the comment box. If you don't have any, see #6.