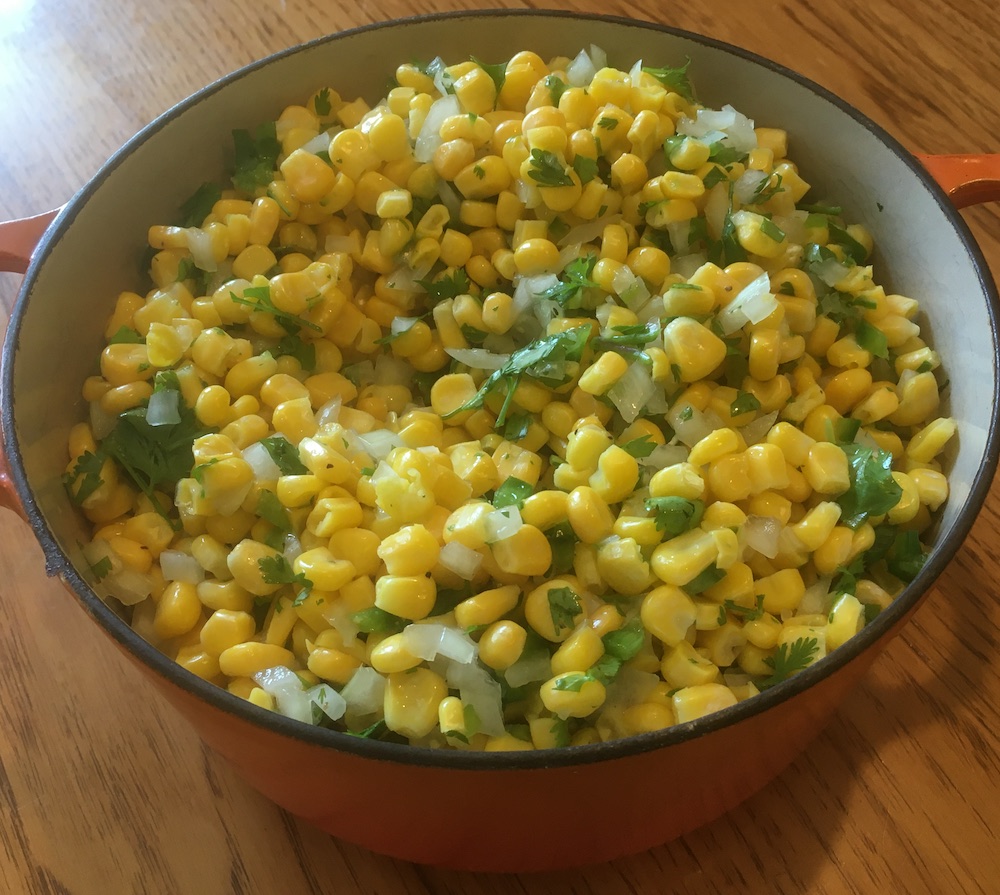 They say corn salsa–they being the authors of this recipe I found in a free publication available at our local Fareway grocery store and in their online recipe box. The first time I made it my husband, also referred to as the man of steel in other blog posts at this website, called it corn salad.
And the new name stuck.
Let me be perfectly clear. This recipe was not part of our world when we lived in northwest South Dakota. Therefore it has no link whatsoever to the mystery series which is the reason for the Gravel Road blog. However, testing and exchanging new recipes was a favorite pastime amongst my circle of friends when we did live there.
30 years later, I still use many of them. The recipes, not the friends.
I'm recalling that spirit to share this recipe today. It is too good, too simple, and too easy to keep to myself. Plus this is cilantro season here in Iowa, and this is a good way to use it. All 6 people in our house love this dish. That number includes the 5-year-old who is suspicious of anything where different foods touch one another and the 2-year-old who as a rule refuses to eat anything not smothered in barbecue sauce. Plus it works for the 3 adults who can't eat dairy, the 5-year-old who can't eat gluten, and the 2-year-old who can't have soy.
Yes, we are THAT family.
One more thing–I usually double the recipe because it's just that good.
They Say Corn Salsa, I Say Corn Salad
1 (16 ounce) bag frozen yellow corn, thawed
1 jalapeno, seeded and chopped (put on rubber gloves for this part)
1/2 of a large onion, diced
3/4 cup cilantro, chopped
2 limes, juiced (or 1/4 cup lime juice)
1/4 teaspoon salt
1/4 teaspoon pepper
Combine all ingredients. Refrigerate and enjoy!