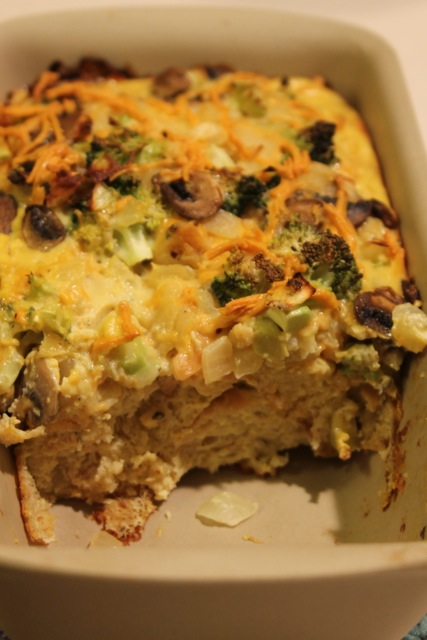 Though I love egg bakes, known as "stratas" in more refined circles, I've been steering clear of them since being diagnosed with a dairy allergy. But a recipe for a vegetable heavy strata in USA Weekend magazine provided the vision and gumption needed to create a dairy free egg bake that tastes good. Thankfully, the end product was delicious. In fact, delicious enough to satisfy breakfast and brunch guest who are allergy free.
Savory Vegetable Strata
4 teaspoons olive oil
1 large onion, diced (about 2 cups)
8 ounces white mushrooms, sliced (about 3 cups)
cooking spray
1/2 of Costco brand roasted garlic baguette, cubed* (about 5 cups)
12 large eggs
2 cups almond or rice milk (or a combination of the two)
1 tablespoon Dijon mustard
10 ounces chopped broccoli, steamed until tender but still firm, or 1 (10 ounce) package frozen chopped broccoli, thawed
4 ounces imitation mozzarella cheese shreds (1 cup)
1 teaspoon dried thyme or 1 tablespoon fresh
1/2 teaspoon salt
1/2 teaspoon freshly ground black pepper
If using fresh broccoli, steam it and set aside to cool. Heat half the oil in frying pan over medium-high heat. Add onion and cook, stirring, until softened and beginning to brown, 3–5 minutes. Transfer to a medium bowl and allow to cool.
Heat remaining oil in same skillet over medium-high heat and cook mushrooms, stir occasionally, until water evaporates and they begin to brown, 5–7 minutes. Remove from heat and cool completely.
Coat a 9 X 13** baking dish with cooking spray. Arrange bread cubes in the bottom. In a large bowl beat the eggs, milk substitute, and mustard until well-mixed. Add the vegetables and cheese substitute. Pour mixture evenly over the bread, so liquid soaks into bread uniformly. Cover and refrigerate overnight or at least 8 hours.
Preheat oven to 350°. Uncover strata and bake until top forms a light brown crust, 60–70 minutes. Serve immediately.*** Serves 8
*Or use a regular baguette and add 3 cloves of minced garlic to the onions during their last minute of cooking. Just be sure the baguette is dairy free.
**This makes a big panful. I divided it between 2 smaller pans, then baked one and froze the other. Even so, we had leftovers.
***The original recipe called for 1/3 cup Parmesan cheese to be stirred into the milk/egg mixture. Hiram sprinkled Parmesan on his helpings and said it did the trick.