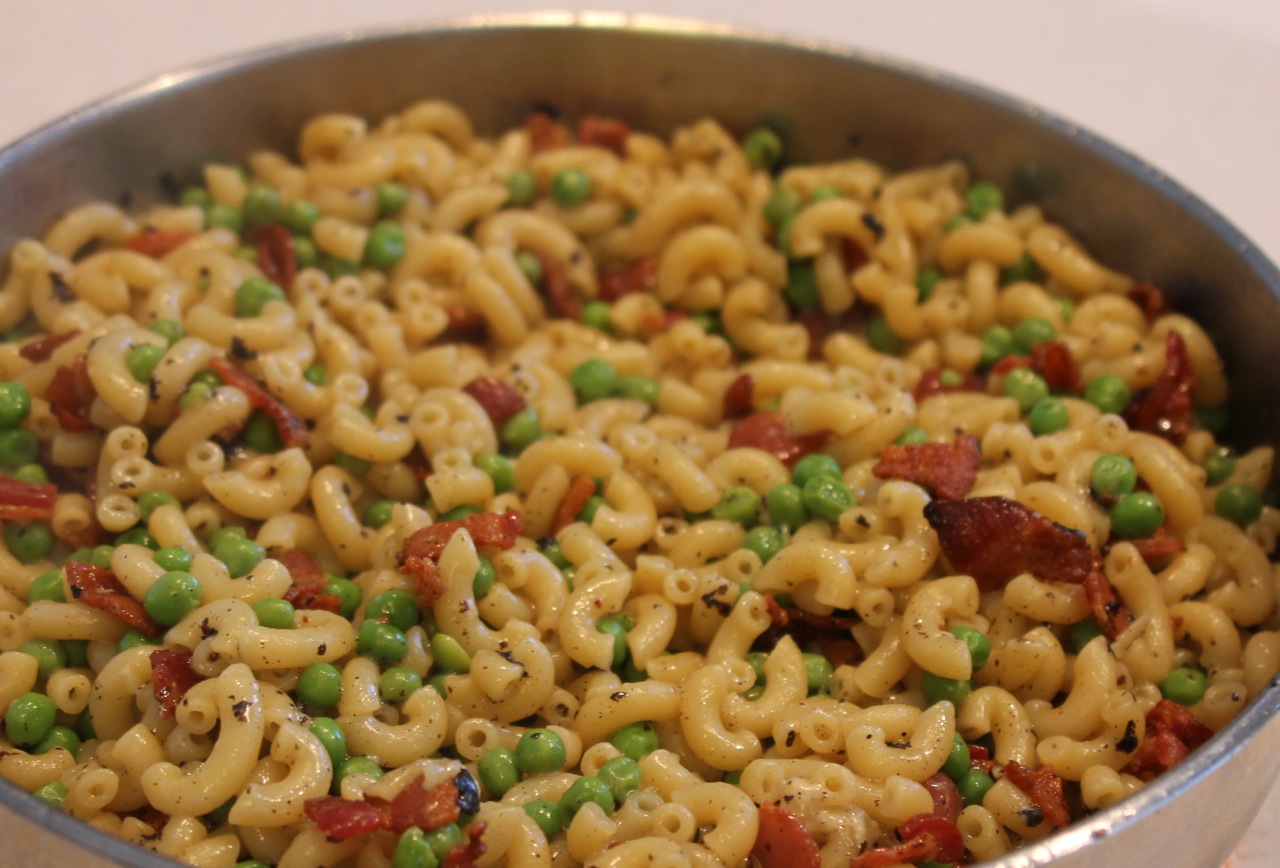 Driving on our gravel road has been an adventure late, thanks to the ruts created by the double whammy of a winter snowstorm and the spring thaw happening at the same time. The ruts kept me out of both the bars (which I don't frequent), and the grocery store (which I visit on a pretty regular basis.) So meals this week have been an exercise in creative substitutions. Some dishes did not receive the coveted Hiram seal of approval, but the one featured today was a rousing success.
The original recipe, Pasta Risotto with Peas and Pancetta, was published in the March 8–10, 2013 issue of USA Weekend Magazine. The recipe below is the substitute version, but you can click on the link to see the original. It was very easy to make and took less than a half hour to prepare.
Macaroni Risotto with Peas and Bacon
1 clove garlic, peeled and quartered
1/2 pound thick-cut bacon, diced
1 1/4 cups frozen peas
8 ounces uncooked macaroni (about 2 cups)
2 1/2 cups boiling water
1 tablespoon soft butter substitute
2 tablespoons grated Parmesan
Brown bacon in a heavy frying pan or Dutch oven. When it is bronze and crisp, use a slotted spoon to place it on a plate lined with paper toweling. Pour off all but 2 tablespoons of grease. Add peeled, quartered garlic clove to grease and cook until golden; discard garlic.
Add peas and stir for a moment, until the frozen look leaves them. Add macaroni and stir, then add the boiling water. Turn down the heat and let simmer, uncovered, for 10 minutes. Stir occasionally to stop it from sticking. If needed, add a little more boiling water.
When it's ready, the macaroni should be soft and starchy and the water absorbed. Add the butter substitute and Parmesan* and beat until well mixed. Add the bacon and stir until mixed. Serve immediately.
*The amount of Parmesan was so small, it didn't bother my allergies. But if you're worried, just leave it out and let diners sprinkle cheese on individual helpings…or not!