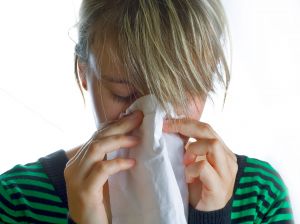 Today, a compassionate, caring medical professional at  Allergy Associates of LaCrosse, Wisconsin is going to hurt me. This person will perform allergy tests by pricking my baby soft skin over and over and over. Why submit to such torture? I chalk it up to these top ten reasons it's time to visit an allergy clinic.
10.  You plan your daily walks to avoid homes that vent their dryers, and hence the scent
of dryer sheets, along the sidewalk.
9.  You avoid campfire smoke by bribing little children to roast marshmallows for your s'more.
8.  You can't to visit your friends unless they get rid of candles and incense first.
7.  You beg God to put all Bath and Body Works stores out of business.
6.  Your husband scrubs his face and/or shaves with unscented lotion before daring to kiss you.
5.  You're beginning to think face masks look kinda fashionable, even sexy.
4.  You start thinking of perfume and men's cologne as instruments of Satan.
3.  You ask your hubby to demonstrates his love by not buying you flowers.
2.  Your eyes get red and itchy when looking at pictures of cats.
1.  Your personal road to hell is paved, not with good intentions, but with scented candles, Glade air fresheners and department store perfume aisles.