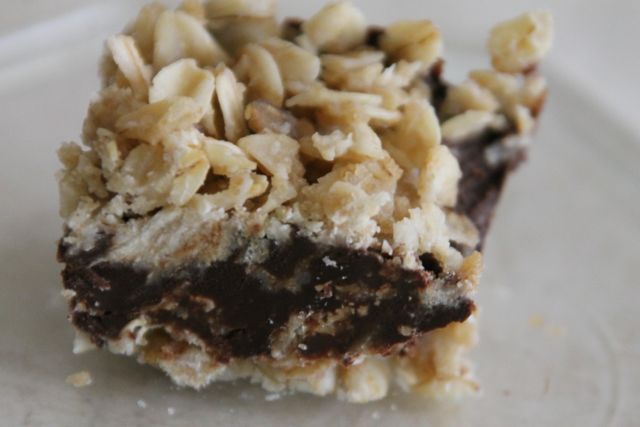 Today's yummy and totally decadent recipe comes from the same issue of P31 Woman Magazine as did the blueberry crumble bar recipe posted last month. I converted the bars to non-dairy status (they were already gulten and egg free for those of you with those allergies) by substituting coconut oil for butter and unsweetened baking chocolate and agave syrup for the dark chocolate chips.
The chocolate substitution was a winner, but I'm not yet sold on the coconut oil as a substitute for 2 reasons. First, it didn't bind the oats together very well, so the bottom oat layer was hard to get out of the pan. Second, whenever I use coconut oil in baking recipes, the end product seems heavy.
Neither of those reservations stopped the fam from eating the layered oat bars at our Labor Day Family reunion. In fact, the bars were gone pretty quick. Still, next time I try this recipe, I'll use margarine instead of butter and report back. Now, here's the recipe.
Layered Oat Bars
1 cup margarine or coconut oil
1/4 cup brown sugar
1 teaspoon vanilla
3 1/2 cups oatmeal
8 ounces unsweetened baking chocolate
3/4 cup natural, no sugar added peanut butter
1/4 cup agave syrup
Spray a 9 x 9 or 7 1/2 x 10 inch baking pan with cooking spray.
Put shortening in a large saucepan over medium heat. As soon as it starts to melt, add the brown sugar. Cook and stir until shortening is completely melted, and the mixture is smooth. Stir in vanilla. Add oats and cook, stirring constantly for 1 – 2 minutes. Press 2/3 of mixture into the bottom of the prepared pan.
Place chocolate and peanut butter in a glass bowl. Put in microwave for one minute. Remove and stir. Repeat until the chocolate and peanut butter are completely melted and mixed together. Add agave and stir well, scraping sides of bowl often. Pour over oatmeal mixture in bottom of pan. Use spatula to spread evenly. Sprinkle remaining oatmeal mixture on top of chocolate/peanut butter. Press gently into chocolate mixture to set the oats.
Refrigerate several hours until set. Remove from refrigerator for 30 minutes before cutting into bars. Cut into VERY SMALL PIECES since these bars are very rich. Store in refrigerator in a covered container.