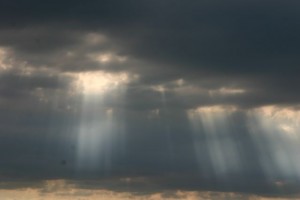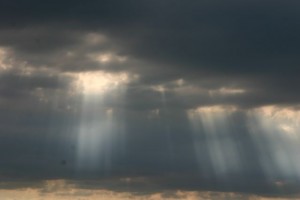 After a month and a half with nary a storm cloud in the sky, a few welcome rains have fallen on our little patch of earth. Not quite enough for the weather powers to declare an end to the drought of 2012. But enough for the resident man of steel to go a few rounds with the lawn mower and for me to think of these three rainy thoughts for Thursday.
Apparently, Japanese beetles don't like the rain. Though it's more fun to imagine them huddling under the eaves because they can't find itty-bitty umbrellas to match their itty-bitty kimonos.
All it takes is one good rain and one swath around the lawn with the mower, and the kitchen floor is covered with grass clippings.
Every rainy morning, my pathetic tan, acquired during early morning walks spent soaking up a year's worth of Vitamin D, fades a little. So much for my dream of attaining the tan and toned body necessary to audition for the Jane Fonda role in a remake of one of my favorite movies, On Golden Pond.  [youtube]http://www.youtube.com/watch?v=-KUVXUGzKaE[/youtube]
How about you? What movie do you want to see remade and what role would you play in it?