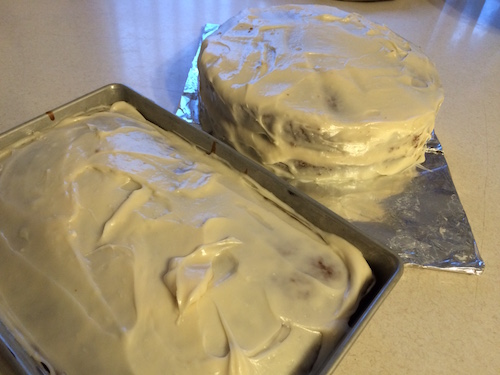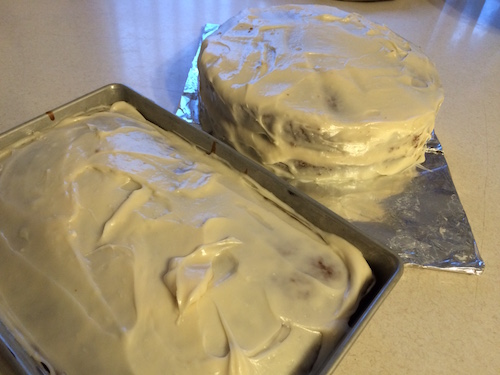 All the kids, their spouses and the grandkids, along with my sister and her husband, are gathering this weekend to celebrate the Man of Steel's 60th birthday. That means he gets to choose his own birthday meal (chicken tetrazzini) and birthday dessert. He chose one of his favorites: carrot cake.
The only problem with that choice was that at least 3 people attending the celebration can't have dairy. But, as a quick internet search revealed, someone invented dairy-free carrot cake. And as a trial baking adventure proved, dairy-free carrot cake is really good. So is the dairy-free cream "cheese" frosting.
I found the recipe for the cake and the frosting at the Go Dairy Free Website. The only alterations I made in the cake batter were to leave out the raisins…not my favorite and reduce the sugar. For the trial run, I made 1 small rectangular cake for a taste test and 2 round cakes, which went to a dessert auction at church. The birthday cake will be 3 layers of round pans. Warning: this recipe makes a very big cake.
Dairy-Free Carrot Cake
Ingredients
6 cups grated carrots
2/3 cup light brown sugar
4 eggs
3/4 cups white sugar
1 cup vegetable oil
2 teaspoons vanilla extract
1 cup crushed pineapple, drained
3 cups unbleached flour
2 teaspoons baking soda
1 teaspoon salt
3 teaspoons ground cinnamon
1 teaspoon ground nutmeg
1 cup chopped walnuts (optional)
 Instructions
Combine the grated carrots and brown sugar in a medium bowl and set aside for an hour.
Preheat oven to 350ºF, and grease and flour two 10-inch cake pans, three 8-inch cake pans, or two 8-inch cake pans +8 cupcake tins.
In a medium bowl, combine the flour, baking soda, salt, cinnamon, and nutmeg, and briefly set aside. In a large mixing bowl, beat the eggs, and gradually beat in the white sugar, oil and vanilla. Stir in the pineapple. Stir the flour mix into the wet mixture, being careful not to over mix. Gently fold in the carrot mixture and nuts.
Pour the batter evenly into your prepared pans. Bake as follows: 10-inch pans – 40-50 minutes, 8-inch pans – 30-35 minutes, Cupcakes – 20-22 minutes, or for all, until the cakes are springy to the touch and a toothpick inserted into the center comes out clean.
Place the pans on a wire rack to cool for 10-20 minutes before removing them from the pan.
Once the cake is completely cool, then you can frost it or drizzle with icing.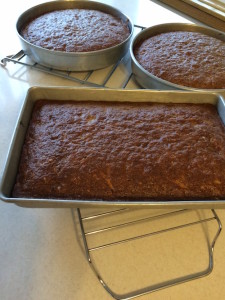 Dairy-Free Cream "Cheese" Frosting
Ingredients
8 ounces vegan "cream cheese"
1/3 cup Earth Balance Vegan Buttery Sticks
3 cups powdered sugar
1 teaspoon vanilla