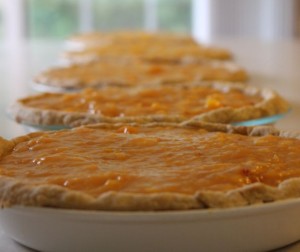 Pardon the latest of this post, but I just got back from peach pie heaven. Though those of you who shudder at the thought of making 5 fresh peach pies before 10 AM, my peach pie heaven may be your peach pie hell.
But the opportunity to prepare dessert for a wedding rehearsal involving two families who have given generously to us made the time in the kitchen heavenly. While peeling peaches, I reflected upon the ways these families touched ours in the past:
During our son's six years as a monk, the bride's parents subscribed to the monastery newsletter and talked about what they read in it. That simple act of caring meant more to us than words can express.
The bride and her sister, who are a few years older than our daughter, let Anne borrow a formal for her senior prom. The kicky, funky dress turned out to be Anne's all time favorite.
When Anne was in fourth grade, the groom volunteered to play George Burn's to her Gracie Allen for a school performance project. The groom's parents helped him memorize his lines.
The groom did the filming for Different Dream Parenting's book trailer. Because he has a film degree, he's been able to help with other audio-visual projects. And he never rolls his eyes when I ask questions with obvious (to the younger generation, anyway) answers.
Such simple things, I mused. But things our family couldn't do without them.
We couldn't enter into typical how-the-kids-are-doing conversations with friends unless they understood something about our son's life.
We couldn't afford a kicky, funky prom dress for Anne.
We couldn't be our pint-sized Gracie Allen's pint-sized straight man.
We couldn't film professional quality video.
So when our small church group decided to host tonight's wedding rehearsal dinner for our friends, I volunteered to make dessert.
Not just any dessert.
But fresh peach pie.
Not just 1 pie, but 5.
Enough to feed the whole crowd.
Why volunteer for what some people consider a hellish job?
Because I make a killer peach pie.
Because it's peach season.
Because this is an opportunity to give back to those who have given to us.
Because being able to give back is a taste of heaven on earth.
How do I know this? Because, I realized, while pouring the last of the glaze over fresh-sliced peaches resting in the baked pastry shell, when God provides opportunities for his people to exercise the unique gifts he's equipped them with, he's giving them a foretaste of heaven on earth. And what does heaven taste like?
Heaven tastes serving people who freely served us.
It tastes like the celebration for two lovely, young people making a lifelong commitment.
It tastes like finally being able to give back.
Heaven tastes like fresh peach pie on a warm, summer night.