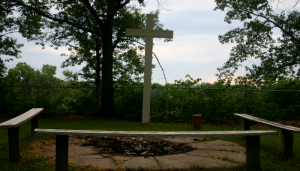 This week's been an out-of-the-frying-pan-into-the-fire experience. Once Hiram was home, on his feet, and fairly independent, I hit the road for the Cedar Falls Christian Writers' Conference. I arrived one day late, but in time to teach three workshops, reconnect with old friends, and make new ones.
But the frying pan/fire scenario doesn't leave much time for new blog posts, so today's is a recycled one written the first year I went to the conference, which is held at the same church camp I attended as a child. Enjoy!
"'He who believes in Me', as the Scripture said,
'From his innermost being shall flow rivers of living water.'"
John 7: 38
I squirmed like a ten-year-old as I drove under the sign, "Riverview Bible Conference Center." The name was different, but I felt at home in the place I hadn't seen in 35 years – my childhood church camp.
I arrived the night before my writers' conference, so as soon as my bags were stowed, I walked the grounds. I located the tabernacle, a barn of a place where an old maid chapel director taught 200 wriggling kids every verse of How Great Thou Art. Every day, when she freed us from our prison of song, we ran to the pool where we recited the day's new verse as the price of our admission.
The pool was as I remembered it, and I remembered how up-town that cement pool seemed in the 1960s. Moving on, I found the cabins I'd stayed in different years. I recognized the old craft center, Missionary Hall, which would serve as our conference headquarters tomorrow. My biggest disappointment was not locating the campfire pit and the cross that stood by it.
One thing puzzled me as I tramped around. Why had the camp been named Riverview? In all my church camp years, I'd never seen a river and couldn't find one now. Darkness fell and the bugs had sucked me dry, so I went back to my cabin still wondering.
The next morning, I searched for the campfire before the conference began. A road I'd missed the night before dead ended in a grassy bank, but I climbed up a few steps. There it was – the campfire, hemmed by benches on three sides and the cross on the fourth. Once, a minister explained the greatness of God's love to us as we sat on those benches. "He loved you so much He died for you," the pastor said, pointing to the cross. "He died so you might live." Sitting there I had accepted Christ, blinded by His love, unable to imagine life beyond what He'd already given.
Now I approached that cross, neon pink in the rising sun. Light peeked between tree trunks and through a chain-link fence that ran along a little ridge a few yards behind it. Curious, I walked beyond the cross, looked over the fence, and gasped. A river flowed far below me, surrounded by trees and cabins, docks and boats, teeming with life.
"You've grown up, Jolene." A still, small voice whispered in my heart. "You've matured enough to see what was always there."
Thirty years ago, I was too young to comprehend God's simple truth. But this day I know His promise is true because I have experienced it for three decades: that beyond the cross flows a river of life!