Today, I'm delighted to introduce you to Cheri Cowell. She's the author of several Bible studies, including her latest, Parables and Word Pictures from the New Testament. As part of the blog tour celebrating the release of Parables, Cheri answered a few questions about her writing and her faith.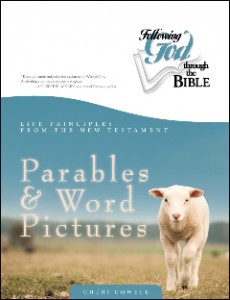 What passion drove you as you wrote your new book?
I LOVE the Word and I love storytelling and I want others to fall in love not only with the Word but also with the concept that they can become a living parable, a living story pointing others toward the Ultimate Living Parable––Jesus Christ.
What surprised or otherwise impacted you as you wrote your book?
There's not a consensus on how many parables are in the Bible or even what defines a parable.
What do you hope readers will gain from your book(s)?
That the parables are not isolated stories only used for sermon illustrations, but when read together they give us a picture of how we are to live as kingdom people. Through the parables we learn how to become living parables in a world desperate to "see" God.
It has been said that Jesus spoke in parables to "confuse and confound" and you say you have a "key" to making these less confusing and confounding to modern-day readers. What is this key?
It wasn't until I studied the parables as a whole that the whole message they convey became clear, so the key is a comprehensive look at the New Testament parables. This is what the study brings to the reader.
Storytelling is a big part of our culture. Everywhere you turn there is a new story; how can we use these parables to reach our neighbors and friends with their story-telling power?
For me, this is what studying the parables is all about. It is about shaping our lives after Jesus that when other "read our lives" they see Him. How we treat others, how we respond to sorrow and obstacles tells a story. When asked how and why we are able to be at peace, or turn the other cheek, we don't need a canned presentation. We simply share our story of how God's story has changed us.
The study concludes with a look at the Parable of all parables. Tell us about this because this is the heart of your study.
I remember the moment when in preparation for writing this study I received the revelation that Jesus not only taught parables, but He was a parable––a living parable. In fact, He was the Ultimate Living Parable who lived His life as an example of what a life shaped by the truths taught in the parables should look like. Likewise, you and I have been invited to live parable-shaped lives so we, too, might become a living parable in a world begging to see God.
What life experience, education, or training helped you become an author?
I am a writers' conference fan, having attended and taught at more than 40 over the last ten years. I wouldn't be where I am today as a writer without them. I also received a Masters in Theological Studies from Asbury Seminary, where I learned the Inductive Bible study method I used in writing the parables Bible study.
What do you do when you're not writing?
My husband and I love to travel, to see nature and all the beautiful places God's created for us to enjoy. National Parks are our favorite destinations. In June we will travel to Yellowstone.
Click on this link to order Parables and Word Pictures from the New Testament. You can also enter a drawing for one of three gift baskets Cheri is giving away as part of her blog tour. Here's what's in the baskets:
Parables and Word Pictures from the New Testament (workbook Bible study) by Cheri Cowell
Women of the Bible: Book One (workbook Bible study) by Barber, Rasnake, and Shepherd
Mocha on the Mount (Coffee Cup Bible study) by Sandra Glahn
Direction: Discernment for the Decisions of Your Life by Cheri Cowell
Direction Bible study workbook by Cheri Cowell
God: Knowing Him By His Names by Bill Bright
See For Yourself: Daily Devotionals (ebook DVD) by Cheri Cowell
Bible tabs
Bookmark
Bible highlighter
Hunter Green gift basket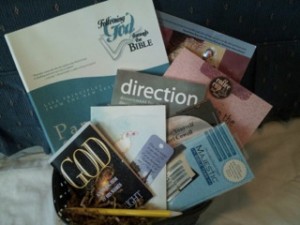 Quite the motherlode, huh? To enter the give away, leave a comment below. Comments received by me and all the other blog facilitators will be passed on to Cheri who will chose the winners. The promotion runs from June 1 through July 6, so comment away!