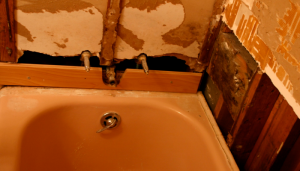 The remodeling started yesterday when my husband announced he planned to tear out all the shower tile in our master bathroom. For about three months we've been aware of a little moisture problem that needed to be investigated. And since New Year's Eve is always the best time to initiate home improvement projects – you can get a twenty-four hour jump on the New Year's resolution thing that way – Hiram got busy with the crow bar.
This morning, with the convenient bathroom out of commission, I was reminded of how much I hate camping. It took me three trips, maybe four, to move everything into the kitchen bathroom so I could complete my toilette. And just when I was ready to step into the shower, I remembered the rest of the stuff I needed. I had to get dressed again and haul another armload from one bathroom to the other. After the shower and two more trips to the master bathroom, I was ready for the day.
And that's when I remembered why I hate camping. It is so darn inefficient. You spend all your time moving from one place to another, packing everything you need. Then at the pivotal moment, you realize you forgot the most essential necessity and have to figure out a way to retrieve it or come up with a way to do without it. After a weekend away from it all, you go home exhausted and covered with bug bites.
Most years when June and July roll around, somebody talks me into a camp-out by describing how much fun camping is. But 2008 is going to be different. Even though I'm now fifty-one and need one of those pill keepers to remember to take my vitamins, thanks to our January bathroom remodeling project, I will not forget how much I hate camping and all its inefficiencies.
Even though I've found some good in our present bathroom situation, next New Year's Eve I'm hiding the crow bar. This winter camping business is for the birds.