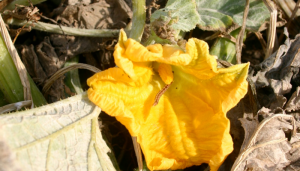 From Sunday to Tuesday of this week, I traveled to and from northwest Iowa for a speaking engagement. Sunday, its summer-like weather hot and humid, brought the farmers to the soybean fields in droves. Combines and grain wagons were everywhere with harvest in full swing. By the time I drove to my speaking engagement Monday evening torrential rain nearly forced me to park at the side the road in a downpour more reminiscent of spring than early fall. But when I drove home Tuesday the air turned cool, and the constant switches left me feeling a little crazy.
The three day kaleidoscope of weather reminded me of a trip to a pumpkin farm last fall. An early frost had damaged the vines. But the warm days and rain that followed fooled the vines into sending out new blossoms which attracted worms worms usually seen only in spring. The odd chain of events resulted in an interesting picture.
When life doesn't go the way I expect, I should be more like the blossoms and the worms. I should take advantage of unusual events since they make life interesting. If I don't learn to do that,  I'll get a little crazy. Or a little crazier, if I'm completely honest.