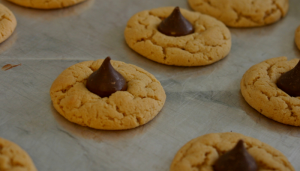 My friend, Ashley came over so we could do our traditional Christmas baking. The practice began seven years ago, when she was a second grader and I became her mentor the fall after I left teaching. Over the years we've decorated Christmas cookies, made Chinese noodle/peanut/chocolate clusters, no-bake oatmeal cookies, and more. This year, she suggested peanut butter blossom cookies, which we made once before.
The recipe on the back of the bag of Hershey Kisses. They said, "Mix dough, following the directions on the back of a package of  Betty Crocker peanut butter cookie mix."
Them was fighting words for Christmas baking purists like Ashley and me. So I hauled out the Betty Crocker Cookbook and found the recipe for peanut butter cookies. We made a double batch and used almost the entire bag of chocolate kisses. (Hiram and my new son valiantly volunteered to dispose of the leftovers.)
The end results were worth the extra effort. The cookies looked perfect and tasted scrumptious. They were so irresistible, I sent all but four home with Ashley. Her two teenage brothers will make short work of them, she assured me.
If you're looking for a way to keep the kids busy during the rest of Christmas vacation, give this old-fashioned recipe a try. Maybe it will start your own baking tradition!
Peanut Butter Blossom Cookies
1 bag Hershey kisses or chocolate stars
1 cup butter
1 cup chunky peanut butter
1 cup white sugar
1 cup brown sugar
2 eggs
2 1/2 cups flour
1 1 /2 teaspoon soda
1 teaspoon baking powder
1/2 teaspoon salt
Cream butter, peanut butter, sugars, and eggs until light and fluffy. Add flour, baking soda, baking powder, and salt. Cover and chill.
Heat oven to 375 degrees. Roll dough into 1 inch balls and place on a cookie sheet. Bake for 10 – 12 minutes. (Surface will look crackled.) Take out of oven and immediately place an unwrapped chocolate kiss or star in the middle of each cookie. Cool completely before storing. Makes about 5 dozen cookies.