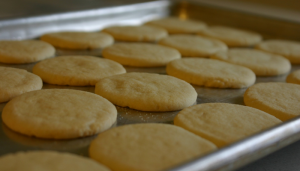 Today's recipe has no redeeming qualities. It doesn't contain oatmeal. Whole wheat flour can't be substituted for white. Brown sugar can't replace either the granulated or powdered sugar. It has too much oil and too much butter.
Then why feature Super Sugar Cookies on this blog? Because I made a batch for today's time capsule opening. The recipe is a huge hit with high schoolers. And since this is the last group of seniors who spent the year in the Philo Pig Pen, and thus our last Time Capsule Opening, this could be the last time I make the cookies for a long, long time.
So today is the right day to feature Super Sugar Cookies and to remember June Bricker, my best friend's mom, who passed along the recipe when I was in high school.
Sweet memories.
Sweet cookies.
Sweet time with the seniors today.
Super Sugar Cookies
1 cup powdered sugar
1 cup granulated white sugar
2 eggs
1 cup oil
1 cup softened butter
1 teaspoon vanilla
1/2 teaspoon almond or lemon extract
1 teaspoon cream of tartar
1 teaspoon soda
4 1/2 cups flour
Preheat oven to 350 degrees. Cream sugars, butter, oil, and eggs until light and fluffy. Add dry ingredients and mix well. Chill. Roll into small balls and place on cookie sheets. Press flat with a glass dipped in sugar. Bake for 10 – 15 minutes.
*This makes a large batch. I often half it.